Luis Suarez Feeling the Love on Merseyside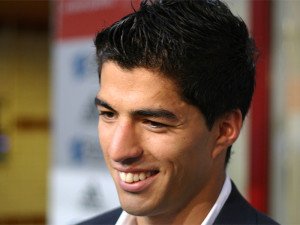 Following in the wake of Luis Suarez's dismissal of the reported interest from Spanish giants Real Madrid yesterday, the Uruguayan striker has now gone on record with the Liverpool Echo saying that he and his family are "happy" and "settled" on Merseyside, drawing a sharp contrast to what he had to say this summer.
"I feel part of things at Liverpool. It is my home. I am comfortable here. I work hard for Liverpool and I will always be thankful to the club and to my team-mates" said the 26-year old following reports that Los Blancos, a team he very publicly pined for during a turbulent transfer window, would be making a move for his services in January. When the interest over the summer amounted to nothing and a move failed to materialize – despite him apparently agreeing to terms – a series of bids from Arsenal tempted the Uruguayan with the promise of Champions League football.
After a shocking interview with the Guardian newspaper in which Suarez talked of broken promises from the Reds hierarchy and pleaded to be released from what sounded like bondage, he was separated from the team and forced to train alone – something he now says the rest of the squad didn't approve of. "When I was separated (from the squad), the players told me they didn't like that and wanted me to be with the group. Today I feel very supported by my team-mates, and I appreciate their support."
Before the transfer window closed, primary Liverpool owner John W. Henry put his foot down with a declaration that the Uruguayan wouldn't be sold to anyone, at any price and with that Suarez accepted his future was on Merseyside – for now anyways – and cited the support of the Reds faithful as a major factor in his about-face. "The support of the fans was also very important. I always could walk on the street with no trouble. I was never threatened or anything like that — the people told me to stay." It's nice to hear Suarez signing the right tune and we'll start to believe it if he doesn't drop an octave or two come January.