Steven Gerrard Hip Injury Could Rule Him Out of Fulham Meeting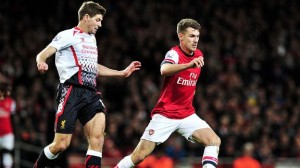 Steven Gerrard can't catch a break this season; the England captain may have lead the Three Lions to the promised land of World Cup qualification only a few weeks back, but in a Liverpool shirt, he's been less than his normally prolific self and amid calls for Reds boss Brendan Rodgers to drop him to the bench for the match against Fulham this weekend, it's now been revealed that the skipper bunged up his hip on Saturday.
Although the extent and severity of the injury hasn't been made clear, though the Liverpool manager felt it necessary to mention it following his sides loss to Arsenal over the weekend. "He took a knock towards the end, with his hip, [but] I'm not sure the complete diagnosis on it" said Rodgers who's normally quite informed when it comes to his player's fitness levels. Is this a convenient injury that will justify his exclusion from the squad on Saturday and in England's upcoming friendlies? Or is this the real deal?
Insane – and possibly not far from the truth – conspiracy theories aside, watching from the stands when Martin Jol's Fulham side come to town and taking it easy while England play two meaningless friendlies with Chile and Germany could be exactly what Gerrard needs to refocus his mind. Despite his patchy form, Rodgers has so far held back any criticism of his captain and has yet to rule him out for this weekend's match.
"Stevie's been brilliant for me, it was a tough game for him, but we'll assess his injury and see where he's at" said the Reds manager. Should he not feature against the Cottagers, there are questions of who will take Gerrard's spot in the squad with Jordan Henderson impressing in a more central role and Joe Allen itching for a recall. The question also begs whether he earns an immediate recall upon a return to fitness if the side continue their good run of form without him. We'll keep you up to date on these -and many more – questions as answers, imagined or otherwise, become more apparent.