Jon Flanagan Would Consider Going on Loan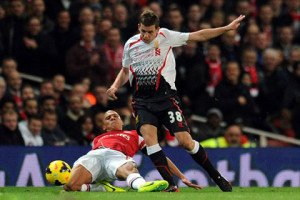 Breaking into the starting eleven at a club prestigious as Liverpool is never easy; despite getting his first start in 18 months against Arsenal, 20-year old Jon Flanagan is considering going out on loan to gain some vital experience – and find himself some regular playing time.
"If I don't get another chance then a loan is certainly a possibility. Everyone wants to play games" the youngster told the Liverpool Echo following the Reds 2-0 loss to Arsenal on Saturday. "It was great to be back in the team and get the chance to play but it would have been more enjoyable if we had got a decent result" he said. Although he knows he was just filling in for Glen Johnson – who was ruled out through illness – Flanagan is still hoping for another shot at the first team.
Reds manager Brendan Rodgers got some expected flack from some quarters for including the youngster in the side over the more experienced – but lacking match sharpness — Martin Kelly, it looked like Flanagan was the right choice as he put in a decent performance against the league leaders. "Hopefully I can get another chance and keep showing what I can do" he said. "I felt like I did okay but to be honest it was all about the result and we were all frustrated by the defeat."
"I only found out I was playing a couple of hours before kick-off. We had a team meeting beforehand and it became clear that Jonno was struggling" said the local fullback, who continued "The manager told me I was starting and I just had to make sure I was ready. It had been a long time since I last played in the Premier League." The last time Flanagan saw Premier League action? April 2012 – and with news coming through that Glen Johnson should be ready to go for the weekend – it could be a little while longer before the youngster finds himself in the Liverpool starting eleven.