Suarez Released by Uruguayan FA for Fulham Clash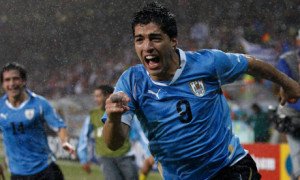 The News Desk has to look twice at the headline, but after some verification, that very odd sentence is accurate. The Uruguayan FA, who could have forced Suarez to miss Liverpool's meeting with Fulham this Saturday, has granted the striker permission to take part in the match.
La Celeste, who could only manage a fifth place finish in South American qualifying, face Jordan in a play-off double header – with the winner earning a place in next summer's tournament in Brazil — over the upcoming international break, and under FIFA rules, could have demanded Suarez be released five days prior to Wednesday's match in the Middle East. Coming off a disheartening loss to Arsenal last weekend, this would have obviously been a problem for the Reds.
The striker, who has six goals since returning from a 10 match suspension for biting Chelsea defender Branislav Ivanovic last April, is an integral part of both Liverpool and his international team's set-up and a tug-of-war over his services may have ensued had Uruguay national coach Oscar Tabarez not agreed to allow Suarez to meet up with the rest of the squad in Turkey after Saturday's game. Liverpool will charter a private jet on his behalf, leaving directly after the match, to insure he arrives in Istanbul in a timely fashion.
Suarez, who faces a 7,000 mile round trip journey from Montevideo following the second leg of the play-off the following Wednesday, has been in the news quite a bit lately, but for once, it's been for all the right reasons when earlier in the week the striker told the Liverpool Echo how "happy" and "settled" he is at Anfield. Hopefully he doesn't have to add "jet lagged" to that list – Liverpool will be navigating their first Merseyside Derby of the season following immediately after the break.