Jose Enrique and Glen Johnson Should Return for Fulham Visit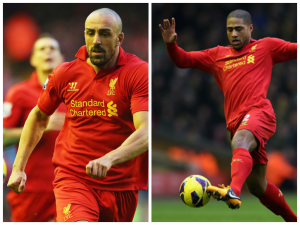 It's been a busy week for the News Desk with player returns, international clearances being granted, national team recalls a plenty and post-Arsenal loss fallout to contend with, but with reports coming in this morning that Jose Enrique should be fit to make a first team return against Fulham this weekend, we can all rest a little easier.
The Spanish fullback has been missing since the Reds victory over Crystal Palace at the beginning of October with an ongoing knee problem forcing him to the sidelines. On-loan Valencia man Aly Cissokho has been deputizing in his absence, but some serious lapses in concentration that last week during the Reds second loss of the season led to him making way at halftime for Philippe Coutinho and a complete change in formation. With the Fulham clash less than 24-hours away, Brendan Rodgers confirmed that Enrique could be in line to make his return this weekend.
"We're just waiting on Jose," said the Reds boss. "He has trained and his knee is much better so we'll be hoping he will be available for the weekend." Earlier this week Rodgers confirmed that the opposite flank would be taken care of with Glen Johnson recovering from the jaw infection that kept him out of the Arsenal meeting. 20-year old Jon Flanagan filled in to mixed results, but there's little hope of an immediate recall for the youngster if Johnson is ready to play. Hopefully, the same can be said about Aly and Jose.
For all of his shortcomings, the Spaniard remains Liverpool's most effective option down the left flank and having him make a return against Fulham tomorrow would be a boon to Liverpool's cause. "That's something we'll assess in the next 24 hours. It will be great to have Jose back" Rodgers enthused. Sometimes it's hard to picture Jose Enrique in the starting line-up being a good thing, but after the stinker Cissokho put in last weekend, the News Desk is absolutely thrilled that he's in line for a recall.