Glen Johnson Hails "Best Squad Yet"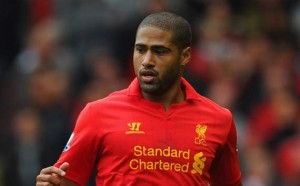 When your team puts in a performance as dominant as Liverpool's thrashing of Fulham on Saturday, it's easy to sing your team-mates praises – but you don't get that self congratulatory, in the moment pandering for attention air from Liverpool defender Glen Johnson.
"We've had some fantastic players in the past that have obviously moved on," said the Reds Number 2 in an interview with the official site. "But in terms of a squad and starting XI, I think it's the best since I've been around." Johnson has been a key member of the squad since signing on the dotted line from Portsmouth in 2009 and pushing then incumbent Steve Finnan out of his coveted fullback role. When he missed the 2-0 loss to Arsenal just over a week ago with a localized jaw infection, the pace and composure he brings to the right flank was definitely felt – something he was keen to make up for against Fulham.
The 29-year old was a dominate presence down the right side of the field with the vast majority of Liverpool's attacks being launched in his neck of the woods. Not only did Brendan Rodgers side score a bundle of goals, but almost as importantly, they kept their first clean sheet since Johnson suffered an in the 1-0 win against Manchester United on the first day of September. "Every good team bounces back after a disappointing result. To do that with a clean sheet and four goals is an ideal day" enthused the Reds defender.
The result, coupled with some favourable outcomes over the weekend, leaves Liverpool in second place going into the international break and keeps them on the road for Champions League qualification. While no one is counting their chickens before they hatch, Johnson believes that Anfield's re-emerging status as a fortress is contributing to the Reds revival. "We've got to make this a difficult place for teams to come and play, and easier for us to play and get the points" said the fullback, who continued "If we keep working like that, and as we have done in the week, I'm sure we're going to give every team a good game."