Gerrard Mocks Ferguson Criticism Ahead of Chile Friendly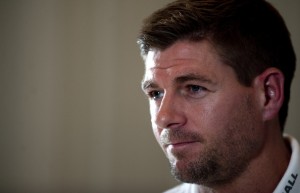 "107 caps isn't bad for someone who isn't "a top, top player", is it?" said the England captain ahead of England's upcoming friendlies with Chile and Germany. Gerrard, once again subjected to questions regarding comments made by retired Manchester United manager Sir Alex Ferguson in his autobiography, continued to keep things civil despite the recycled inquiries.
"Listen, he's entitled to his opinion," argued the Liverpool skipper. "I'm a fan of his; he is one of the best managers in the world. Throughout my career I have had praise from all types of people – including him – and I am not vain enough to take it all." Gerrard, who remains a doubt for this Friday's friendly with the South Americans, has been under increasing fire for a series of lackadaisical performances earlier in the campaign, but did well to answer his critics in Liverpool's 4-0 over Fulham on Saturday.
The skipper involved himself in all four goals – delivering the free kick that lead to Fernando Amorebieta's own goal and the corner that Martin Skrtel headed home as well as winning the ball for Jordan Henderson to play in Luis Suarez before setting up the Uruguayan himself. It may not have erased his dour performance against Arsenal the week previous, but it was a reminder that the 33-year old is still a force to be reckoned with – something he doesn't care if Ferguson cares to admit.
"I have had some unbelievable praise from him and he tried to buy me, certainly on one occasion. Maybe even two" said the Liverpool man, who continued, "For me, the most important thing is what Brendan Rodgers and Roy Hodgson are thinking. I think they are really pleased with me and that is all I will worry about." Does anyone actually care what the senile codger thinks anyways?