Martin Skrtel Keeping Champions League Dream Alive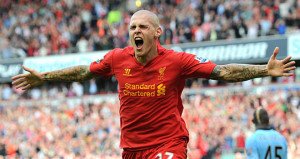 If you're not hungry, someone else is going to eat your dinner – and at Liverpool, if you're not staying on top of your game, there's going to be someone more than happy to take your spot in the team. With a stable full of centerbacks vying for only two or three starting roles, Martin Skrtel is aiming to hang onto his spot as long as he can.
The defender, who turns 29-next month, is aiming for his 10th successive Premier League start this weekend with the first Merseyside Derby of the season looming large on the horizon. Skrtel found himself on the peripheries of the team last season as Jamie Carragher reclaimed a spot in the starting eleven, but after some hard work in pre-season, the Slovakian worked his way back into the first team and he isn't about to let his standards slip – lest he be displaced again.
The Reds have enjoyed a bumper start to the season, racking up 23 points from 11 games and sitting pretty in a Champions League spot going into the weekend. "Now I am just trying hard to keep myself in the team, and that's not easy with six centre-backs competing for two or three places" said Skrtel who recognizes that the quality of his competition means he'll have to reach a little further each and every time he steps on the pitch.
"Mamadou is still a young player but he has plenty of experience with PSG and also the French national team," said the defender, who continued, "Kolo is a big character as well. I think a lot of people were perhaps surprised when Liverpool signed him but from the first day he has shown everyone how good he is." The 2-0 defeat at Arsenal signaled a defensive formation shift for the Reds with Brendan Rodgers choosing to play a more traditional backline and give Liverpool vice-captain Daniel Agger a recall to the side for the 4-0 thrashing of Fulham – a cull that the Slovakian survived.
Whether or not Skrtel stays in the side for this weekend's derby remains to be seen, but his targets remain the same: a starting spot in the squad and Champions League football. "All of us believe that this season we can stay towards the top positions and get back into Europe. To play in the Champions League is the dream for every player" enthused Skrtel. "We are working hard every single day to achieve that. I hope at the end of the season we will be happy."