Jose Enrique Facing Long Injury Lay-Off Ahead of Merseyside Derby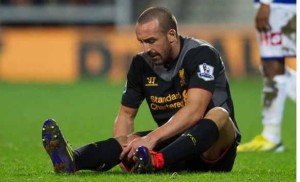 The News Desk is always watching for injury reports from far-flung locals during international breaks, but there's nothing exotic about today's news with reports coming in from the home front that Liverpool fullback Jose Enrique is being ruled out of Saturday's Merseyside Derby with a knee problem – one that may require surgery.
The Spaniard has been in and out of the team all season with problematic knees limiting him to only six Premier League starts this season. A nailed on regular under both Kenny Dalglish – who signed him from Newcastle for £6mil – and during Brendan Rodgers first season in charge, the 27-year has his fair share of critics, but few would argue that he's not our best option down the left or that this injury didn't come at a terrible, terrible time.
Little was known about the problem until Brendan Rodgers shed some light on it following Liverpool's 2-2 draw with Newcastle in October when the boss said "Jose was injured. He's had a problem all season with his knee and he's struggled." After a month out, Enrique made a return to the side in the Reds 4-0 win over Fulham, but it sounds like that's going to be his last appearance for some time.
"It's a blow for us because he's a very talented player," the Liverpool boss told Talksport in a chat earlier today. "He has been struggling for a little while with the problem. He will probably need an operation." With Enrique on the treatment table, on-loan Valencia fullback Aly Cissokho just got that much more important; the Frenchman is our only senior leftback as youngster Jack Robinson is spending the season with Blackpool. The Reds go into the weekend second in the table, but facing one of their sternest tests of the season with a trip to Goodison Park on the table. If ever there was a time for Cissokho to step-up and shake-off that early season rust, this is it…