Liverpool (3) Everton (3): Late Sturridge Equalizer Helps Reds Share the Spoils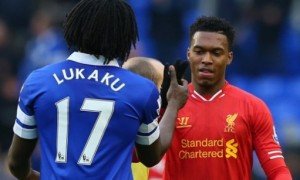 Oh, the unrivaled craziness of the "friendly" derby. Early talk of this particular outing eschewing all the normal piss and vinegar for a more cerebral affair went out the window with the first kick of the ball; Liverpool against Everton at Goodison Park — a derby that's only friendly in name.
If the pre-kickoff chatter of Jon Flanagan and Joe Allen coming into the side in the absence of Daniel Sturridge — only fit enough to make the bench — and Jose Enrique — currently awaiting knee surgery — was only enough to fuel some pre-match hyperbole, then goals from Philippe Coutinho, Kevin Mirallas and Luis Suarez within the opening twenty minutes would be more than enough to keep the talking heads chatting away. An unflinching Romelu Lukaku double gave the hosts the lead before Sturridge broke Blue hearts with an equalizer with seconds left in regulation time.
It's safe to say that either side could have very easily taken full points; the fact that the Reds found the net within the opening five minutes was a fine omen of this things to come as Liverpool are yet to lose this season when they find the net first, but that fleeting early advantage was enough to remind us, in Rafaesque fashion, that not losing doesn't necessarily mean winning.
The fact that every goal yesterday came, at the very least indirectly, from a set-piece is something worth noting. Philippe Coutinho was on hand to bag his first of the season when the little magician found himself in space to flick past Tim Howard following a Steven Gerrard corner, but Everton striker Kevin Mirallas was quick to the pull the hosts level when the visitors, unsurprisingly, bungled Leighton Baines free kick to allow Roberto Martinez's men back into the game.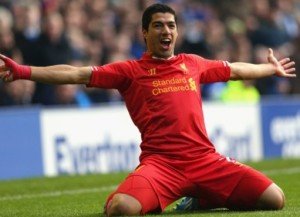 Echoes of last seasons meeting began to oscillate as the match dropped a tempo or two before Luis Suarez, flown back to Merseyside on John W. Henry's private jet following Uruguay's 5-0 aggregate win over Jordan to qualify for the next summer's World Cup, brought it back to life with a stunning free kick that dipped, curled and swerved before bending actual time itself to beat both the Everton wall and a diving Tim Howard.
A shockingly high challenge from Mirallas moments later brought the Uruguayan back into the spotlight — and a reversal of his terrible challenge on the Belgian in this fixture last season — with bloody stud marks left on his leg and the Everton man inexplicably handed only a yellow card for what was surely a potential leg-breaking, season ending tackle.
Although Brendan Rodgers men held the advantage, it was his counterpart in Roberto Martinez that held the momentum. The inclusion of Joe Allen in the midfield, mostly down to a formation reshuffle given Daniel Sturridge only being fit enough to make the bench, did little to stem the tide of Everton attacks as the hosts looked for an equalizer — only to find a superb Simon Mignolet at the other end.
The Belgian denied Ross Barkley's shot-cum-pass, Gerard Deulofeu's breakaway and a pair of gilt edged chances for Lukaku before the Reds, more focused on keeping the hosts at bay than finding a killing blow, wasted a prime chance to go up by two when Joe Allen shot wide from eight yards when merely rolling the ball into the net should have done the trick. Whether the Welshman scoring would have killed off the will be a matter of debate in the coming days, but "what if" scenarios carry little to no weight — reality, on the other hand, got real heavy minutes later when the Toffee's took the lead.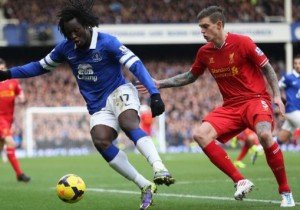 In my match preview I said that if Everton were going to come away with full points then Lukaku would have to start scoring again — and he'd do it with aplomb when his blocked free kick was collected from Mirallas, who you'd do well to remember shouldn't be on the pitch at this point, whose deflected cross found the Belgian in space to blast home and draw the hosts level for the second time.
If the fact that the 20-year man-child was left on his own to finish past his national compatriot wasn't enough to raise a host of defensive red flags, the central defensive pairing of Daniel Agger and Martin Skrtel leaving Glen Johnson to mark the massive striker from a corner ten minutes later — a corner that was headed home in classic center forward fashion put the Toffee's ahead — will leave Rodgers seriously considering his options for next weekends fixture.
Going behind with eight minutes left in normal time in the first Merseyside Derby of the season? Sounds like the perfect opportunity for Daniel Sturridge. The striker — sent to the English national side injured and returned to sender worse off than when he left — loves the big stage and, for the time being, with there being few larger for Liverpool, the 24-year old glanced a header beyond a incomprehensible number of bodies and past Howard with mere seconds left in normal time. Chances for Victor Moses, on for Allen following his horrible miss, and Suarez were to come, but despite reeling from the equalizer, Everton would hang on to deny Liverpool full points — and from the neutrals point of view, rightfully so.
This, as you should probably know already, isn't a blog for neutrals, but I'm not one to be completely blinded by loyalty. Everton, it's fair to say, were the better side on the day, and despite the disproportionate number of dodgy decisions playing out in their favour bolstering their cause, the Toffee's deserved more than the point they were left with. Liverpool, on the other hand, were lucky to get what they got — but had they learned from the mistakes we've seen repeated ad nauseum since the beginning of time, could have easily had so much more. Then again, a case can certainly be made for getting away with more than you can carry.
In my semi-inebriated state I could write another five hundred plus words about how Rodgers bringing on Moses for Allen and Sturridge for Lucas showed that a desire to a win — and a belief that we can — is germinating in not only the squad, but the manager as well. Winning matches you may have drawn and drawing matches you otherwise should have lost is the hallmark of a top-side, and from where I'm sitting — surrounded by empty, cheap beer cans and late night optimism — is exactly what's taking root at Liverpool.
Steven
Ok, I'm drunk. Did I get this wrong? Let us know in the comments section or on Twitter or Facebook. I'm terrible at responding to on those, but, hey, they're there and so are you. Now, are there any more cans kicking around?