Brendan Rodgers on the Draw with Everton: Post Match Interview and Assorted Mathematics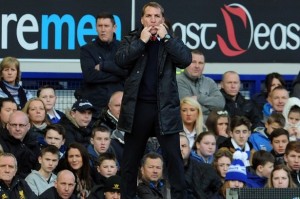 There's a ton of talking points coming out of the derby; whether it's Kevin Mirallas's "tackle" on Luis Suarez or Joe Allen's inexplicable miss from eight yards out, everyone has something to say — obviously Reds boss Brendan Rodgers has a bit more to say than most.
"When you come away to one of your rivals and play like we did for parts of the game, and also show the character and mentality to come from behind towards the end, it tells me everything about where my group is at" said the Reds boss, but after blowing two very valuable leads, some supporters may take a dimmer view of where we're at than the manager.
Video by showmetheFOOTBALL
Click on Glen for the stats

Liverpool just keep on scoring; they keep conceding as well, but we'll get to the more depressing stuff in a minute. Going into yesterdays meeting with Everton, the Reds had found the net an astounding 21 times in 11 matches — a figure it took 5 more matches to reach last term.

With the 3 goals yesterday bumping our season tally to 24 — which it took us until the end of December to reach last year — a curious stat popped up. With each of the today's tallies coming from dead ball situations, Liverpool have now scored 9 times from set-pieces already; the fact that it took us 21 matches to reach this figure in Rodgers first season in charge, and that we only found the net 16 times total from these obviously advantageous situations draws a sharp contrast from then to now.

Although we could muster only 11 shots, we put 63% of them on target, which bodes quite well when compared to our mildly respectable season average of 51% of our shots finding the net. Shots from open play is an important part of any teams game, but the fact that the we capitalized on other scoring opportunities is certainly a positive. Everton have been water-tight defensively all season and were able to restrict the Reds to a dour 7 chances created — an absolute travesty compared to our 12 chance per match average — but wringing 3 goals out of so few chances is a testament to our growing belief.

Roberto Martinez and Brendan Rodgers both hold ball retention paramount, but it was the Blues who came out on top is the possession stakes yesterday and for large swathes of the game that was completely apparent. We came in holding a respectable pass completion rate of 85%; the Blues were able to disrupt that though and we were only successful in 77% of our passes. We're used to having the upper hand for time on the ball as well with 53% of the possession being the season standard, but we dipped 4% below that yesterday with only 49% of the ball.

Defensively, we kept things on par yesterday despite conceding an abnormally high 3 goals — going into the derby, we had only given up 10 goals total in our opening 11 matches for a rather respectable defensive record. We won 49% of our overall duels which is bang on our season average though we took a 10% dive in the tackles won column by coming out worse than our 51% average — food for thought for next weekend, Brendan.

Stats courtesy of Squawka
After Mirallas cancelled out Philippe Coutinho's opening salvo, Luis Suarez put the visitors ahead with a stunning freekick — and could have made it a brace had Allen, dancing in on goal and with the Uruguayan free and clear to his left, passed the ball rather than going on his own and missing from eight yards. This fact wasn't lost on Rodgers, though he took a far more diplomatic approach than many on social media.
"We're disappointed as well because we were 2-1 up and should have gone to 3-1 – that would have allowed us to control the game much better" said the Reds boss. Although would of and could of don't mesh with reality, a Romelu Lukaku brace put the visitors ahead and sent Goodison into ecstasy. "At 3-2, you're thinking that from a game we should never be behind in against a rival, we need to show our resolve and spirit. That's what we did."
The introduction of Daniel Sturridge, who was only fit enough for the bench, in the 80th minute was a calculated roll of the dice as the manager threw the kitchen sink at the hosts in a bid to ruin Roberto Martinez's first Merseyside Derby — and when the striker headed over a host of bodies to level the score, it was mission accomplished.
"A point away from home against a rival is always a very good result. But obviously we'll look at it and think that it's a game that, with a bit better control, we could have won" said the Reds boss. Control is one thing, but not conceding three goals — all of them from set pieces — would have helped too.
–Steven