Sturridge Club and Country Row Takes Another Twist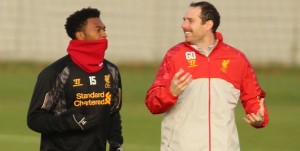 Following in the wake of Liverpool's dramatic 3-3 draw with Everton on Saturday, Reds boss Brendan Rodgers had some harsh words for striker Daniel Sturridge despite the 24-year old stepping off the bench to score the equalizer with less than a minute left in normal time.
Where débutante Jon Flanagan received the gushing praise of the manager, Rodgers was quick to criticize Sturridge's decision to play the full 90-minutes in an England friendly while carrying an injury. "I am looking at him in training on Friday and he is not right," simmered Rodgers. "Whose responsibility is that? It is the FA's and the player's." While most of the scorn from the Reds faithful was understandably heaped on Three Lions boss Roy Hodgson for keeping a crocked player on the pitch for so long, Rodgers assertion that the FA and the player himself should have done to more to protect his fitness does strike a very poignant question – that is, unless you ask the player himself.
Large swathes of Liverpool fans have not been shy in showing their indifference – and sometimes downright distaste – for the national team. Despite Sturridge emerging as a Kop hero, the striker has trod a fine line between club and country with past comments being interpreted – and twisted – either way. In September, after being ruled out England's final World Cup qualifiers due to yet another knock, the striker felt the ire of the England faithful when he told the official website that he's "more worried about Liverpool" and that "it's not about playing for England."
Of course those quotes were taken out of context as the striker was quick to follow up those comments with some sound reasoning, acknowledging that if he doesn't shine for his club, he won't even have the chance to play – let alone do well – for his country. While that made perfect sense to those of us without an agenda, his latest comments might swing the pendulum in the other direction.
While many expected the 24-year old to put his head down and get on with it following the bosses' criticism, many don't know him too well. "The manager gave me an opportunity and it's always a pleasure to put the England shirt on" said Sturridge. "Regardless of what condition you're in, fit or not fit, if you are selected for England you go out there and do your best." Which, of course, begs the question can you do your best when you're carrying a long term injury?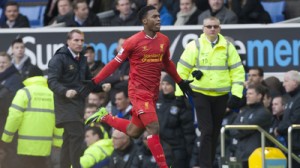 Both Liverpool and England alike have yet to see a fully fit Sturridge this season and the striker himself goes on to admit that the knock he picked up in the Reds 4-1 win over West Bromwich Albion near the end of October is still troubling him. "I've had blood underneath my muscles in my thigh. It's still there now. When I shoot from long distance I still feel pain but it's getting better" conceded the 24-year old. A short spell on the bench may cure what ails him – and make him think long and hard before putting his long term fitness in jeopardy again — but in typical fashion, he wants to be back in starting eleven for the weekend.
"I hope I'll be fit enough to start against Hull next weekend. It would be great to be back in the side" he said, but Brendan Rodgers will have final say on that and despite the Northern Irishman having some time to cool off, he's still not happy. "If you want to be a champion, if you want to win things, you have to be ready," said the Reds boss. "I felt Daniel wasn't ready. The games he has disappointed in have come when he hasn't trained. That was the call here."
It's hard to fault the striker for wanting to compete – too many players these days paint a very generic, apathetic picture of the modern game and the desire shown by players like Sturridge should be applauded. With that being said, running the very real risk of an aggravating an injury in a meaningless friendly amounts to poor decision making on the part of all involved. As faulty as the national set-up is, no one should ever fault a player for wanting to represent their country – but if they're going to do it for no good reason and jeopardize their long term fitness for both club and country, someone with half a brain needs to step in tell them to sit this one out.
–Steven
Do you think Sturridge made the right decision to play for England? Or should he have ruled himself out? Does Brendan Rodgers have a point or is he blowing things out of proportion? Let us know in the comments or find us on Facebook and Twitter. We'll be around…