Daniel Sturridge Reportedly Leaves Liverpool Training on Crutches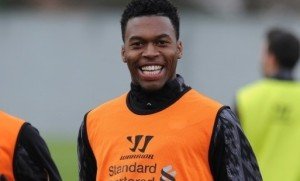 The sun hasn't even come out yet, but with early reports streaming in that Liverpool striker Daniel Sturridge is set to miss the visit to the KC Stadium this weekend after leaving training on crutches, the News Desk is wide awake — though slightly hungover.
Yesterday it appeared that the 24-year old would be fit enough to rejoin the starting eleven after only making the bench against Everton, but this no longer appears to be the case after suspected ligament damage in his left ankle sent the Reds medical staff into a fit and the striker off for scans. Sturridge suffered the same problem suspected by the Liverpool setup last spring while playing for England and hadn't even fully recovered, despite scoring in Liverpool's opening three matches, in time for the start of the Premier League season in August.
The striker has had a series of knocks this season that have kept him from firing on all cylinders, though you'd never know it; Sturridge has nine goals in twelve matches and though he was only fit enough for the bench last weekend, he scored the equalizer in a pulsating Merseyside Derby to share the spoils with Roberto Martinez's men. After Reds boss Brendan Rodgers said the striker trained "exceptionally well" yesterday, many — including the News Desk — suspected a recall to the starting eleven, but this latest revelation has sent the Liverpool faithful — also including the News Desk — into an injury speculation induced tizzy.
While visiting Hull City on Sunday doesn't pose a major problem, the Reds have seven matches in December which include trips to fellow Champions League spot rivals Manchester City, Tottenham and Chelsea with the good run of the first half of the season hanging in the balance. Although fellow striker Iago Aspas should be returning from his own injury woes momentarily, the Spanish hitman has had a torrid time adapting to the Premier League and throwing him into the intensity of a drag out, knock down top of the table scrap may not bode well for him. More on this as scans reveal that we're all crazy and Sturridge's ankle is actually made of some sort of self healing adamantium…