Liverpool (1) Hull City (3): Unimaginative Reds Slump to Defeat at the KC Stadium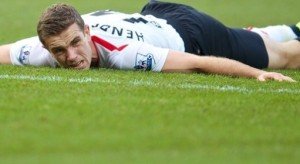 It took 109 years, but it's finally here; a 3-1 reversal at the KC Stadium gives Hull City their first win over Liverpool in their long history and only amps up the dark hoodoo that Steve Bruce so expertly commands over the Merseyside club.
He was always the bogey man — first as a defender and captain at Manchester United and then into his managerial career with Birmingham City, Wigan Athletic, Sunderland and now at Hull City. On-loan Tottenham midfielder Jake Livermore found the net for the first time in the Premier League to open the scoring before Steven Gerrard pulled things even with a stunning free-kick before the break. Although neither side really looked up for it, the Reds just couldn't get going and a scrappy goal from David Meyler put the hosts ahead and Martin Skrtel headed a Tom Huddlestone shot past Simon Mignolet to heap on the misery. That, it goes without saying, wasn't at all what we wanted.
To be honest, it's hard to relive it. Maybe the sad sack routine is a bit rich coming from a side that went into the weekend only a handful of points behind league leaders Arsenal, but the complete and utterly lethargic performance Brendan Rodgers side turned out today won't live long in the memory — that is, unless you're about to use it as a stick to beat the manager.
With Daniel Sturridge ruled out for up to eight weeks after damaging ankle ligaments in training on Friday, Victor Moses and Raheem Sterling came into the side to add a bit of oomph to the attack; unfortunately, that didn't quite work out. Although the occasional bright patch popped up as proceedings wore on, without our passing game working for us, neither took advantage of their limited opportunities to impress and it was the hosts that found themselves in front 20 minutes in.
After weathering the storm of the opening minutes, David Meyler and Jake Livermore were involved in some smart build-up play and quick as a flash, Steve Bruce's side are in the drivers seat with the on-loan Tottenham man's 25-yard strike taking a huge deflection off the heels of Martin Skrtel to loop past Simon Mignolet. With the Reds stuttering along, the Tigers always looked good for the opener, but the precarious lead wouldn't last long.
Philippe Coutinho was only fit enough to make the bench with an ankle problem hampering the diminutive midfielder which meant that Steven Gerrard was tasked with pushing forward to fill the gap left in the Brazilian's absence. Although his passing wasn't quite as sharp or incisive as the 21-year olds, his delivery from set-pieces continues to amaze and it was the Captain that leveled the score with a free-kick bent around the wall and past a diving Alan McGregor.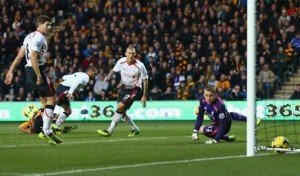 Luis Suarez would try to work an opening for Gerrard with a flick, Tom Huddlestone had a crack at Mignolet and Robbie Brady was booked for a pretty poor attempt at a dive, but the first half ended with the hosts keeping the visitors relatively quiet — an unfortunate sign of things to come. Coutinho, on for Raheem Sterling, and Moses combined for Liverpool's best chance of a match so far when the Brazilian's cross was battered at McGregor by the Nigerian, but the 'keeper somehow kept the shot out.
Real scoring opportunities came up few and far between for either side with the second half failing to impress, but with the hosts causing problems every time they got a sniff of goal, there was little surprise when they snuck back into the lead through David Meyler. The Irishman made his presence known in the buildup to the first goal, and with Kolo Toure unable to clear the ball in three attempts, the 24-year old latched onto it and a struck a sweet left footed finish across the face of goal to send the KC Stadium into raptures.
Short on both momentum and ideas, the Reds came close to pulling back level when Luis Suarez's free-kick flew mere inches wide of the top corner, but it was Steve Bruce's side that enjoyed another goal when Tom Huddlestone's shot — which looked to be going wide — was headed past Mignolet by Martin Skrtel. Hull City, who had never beaten Liverpool in their 109 year history, pick up a vital three points with what has surely been their performance of the season. Liverpool, on the other hand, didn't look bothered.
Maybe it was last weekends Merseyside Derby that sucked the life out of us; maybe it was just one of those dour December days that we're so used to dropping points on. Either way, there's little excuse for today's performance. The only positive coming out of it is that we don't have to wait long for an attempt at a response — we've got Norwich City visiting midweek and a good chance to right the ship. Let's get back on course, shall we?
–Steven
What'd you think about that? Steve Bruce once again takes Liverpool for a ride and we're about to take a tumble down the table. Let us know what you think in the comments section; or, hit us up on Twitter or Facebook. We'll be there too.