Brendan Rodgers on Hull City: Post Match Interview and Losses Compared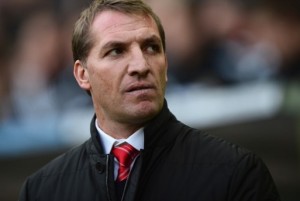 Following the 3-1 reversal at the KC Stadium yesterday, there was an eerie sense hovering just above the pitch that the Reds were getting exactly what they deserved. After sneaking points in a number of games where they should have got none, Hull City were putting an end to that streak of luck that Liverpool were fortunate to find themselves in.
While pulling a result where none is warranted is one of the true things a side needs to mount a serious title challenge, Brendan Rodgers side lacked that — along with so much more — on Sunday and the boss was quick to admit his frustration. "It was very disappointing," said the Reds boss. "I just thought we lacked quality. With the ball we just didn't create enough and we didn't keep the ball long enough in order to move them about." We really didn't do much, did we?
Video by showmetheFOOTBALL
That wasn't what we wanted

If we're not creating, we're not winning; sure, we were able to squeak through the first part of the season without being all that memorable going forward, but in our three losses this season, it's become quite apparent that when we're not on the front foot, we're almost always firmly on the back.

Against both Southampton and Hull City, we created a measly 7 chances against our season average going into yesterday's match of 11.5 per match. Against Arsenal we were marginally better with 10 chances offered up, but that has absolutely nothing on the season high 26 opportunities created in our 4-0 win over Fulham. Obviously not all matches can be as easy as the Cottagers, but we did ourselves few favours by not taking advantage of the shots we did have.

Going into the meeting with Hull City, we were holding onto a semi-respectable 42% shot accuracy; compared to the sides around us, we're doing alright with only Arsenal bettering our average in the top 5. In our first loss of the season, we put 5 out of our 10 shots against the Saints on target, but we were quite a bit worse in our following 2 reversals with only 4 out of our 12 efforts troubling the Gunners and 4 of our 9 finding their way to the net yesterday.

Surprisingly enough, Southampton were the only side that really interrupted our passing game with the Saints holding us to a 78% completion rate — only Manchester United and Everton were able to better that with 77% each. On the other hand, we registered a solid 85% against both Arsenal and Hull City yesterday which is actually 1% better than our average going into Sunday's loss.

If we were bad going forward, we were even worse going back; yesterday was just dire. While we won 52% and 47% of our respective duels against Southampton and Arsenal, Hull City restricted us to a disappointing 40% — 11/23 tackles, 8/22 take-ons and 12/30 headed duels.

Numbers like that aren't going to win anyone anything.

Stats courtesy of Squawka
Probably the most disheartening thing — if you could pick only one — was that the Reds once again gave up a number of cheap goals. "In our last two games we've conceded six goals" said Rodgers. "So we need to be much, much better than that and that's something we need to return to on Wednesday night." The Northern Irishman came in for criticism from some quarters for choosing Kolo Toure ahead of Daniel Agger for the trip to the KC Stadium, but with a number of high profile games coming up, the choice looked more down to squad rotation then unnecessary tinkering.
While we have a number of options available to play with in the heart of the defence, we were a bit thin up-top with news coming through yesterday morning that Daniel Sturridge will be out until mid-January and that Philipe Coutinho — who just returned to the squad recently after a lengthy absence — required injections just to make the bench.
"McGregor never really had to make too many saves and we're a team that has created a lot of chances this season" conceded Rodgers. "If you take those two out, they're obviously two very good players, who have been very efficient for us this season," he continued. "But this little period now will test us." And testing it will be; certainly the numbers above reflected a team lacking in invention — something that will need to be fixed rather quickly if the Reds are to make it through the Festive Fixture list with their Champions League credentials still intact.
The reality check at the hands of Hull City has brought a pause to those trumpeting a title challenge, as well provided an unfortunate amount of ammo for the doom and gloom naysayers. Despite the set-back, Rodgers is looking to use this loss as a rallying cry for the next game. "We just need to reflect on this" said the Reds boss. "We haven't had too many days of late like this here. Now we have a massive game on Wednesday and we must focus and look to get our points in that game."
–Steven