'A view from the Kop' Liverpool 5-1 Norwich City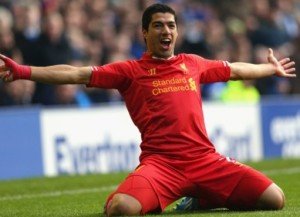 This week has typified everything about being a football fan. The anticipated 3 points against Hull to 'set us up nicely' for a few wins, the low of a terrible performance and defeat, the inquest and questioning, then this match.
Matches under the lights at Anfield always seem to have an extra edge to them. The walk up to the ground always seems a little more exciting. Every red that I know had pretty much said the same before kick-off- 'we want to see a reaction to the Hull defeat'. And what a reaction…..
Quite simply what followed was the Luis Suarez show. It's as simple as that. He was absolutely unbelievable playing at a personal level that I'm unsure I can remember seeing bettered in my years going to Anfield since the early 1980's.
The tempo from the first whistle was straight up and at Norwich and credit must go to Brendan Rodgers for demanding a response, and getting one.
The first goal of the 'Suarez freak show' was simply unbelievable. A dipping volley from 35 yards hit with such precision, pace, power and beauty that I said to my 9 year old son after celebrating it that he was to savour the moment as its likely to be one of the best goals by one of the greatest players that he'll ever see in his life. Little did I know what was coming….
The team set up looked better to me with Lucas Leiva 'rested' and Joe Allen anchoring the midfield — his mobility a definite plus allowing Stevie G a little more freedom to press and probe. Indeed it was Stevie's flick on that resulted in Luis 2nd goal. Dreamland. 2 up and not even half an hour gone.
Luis Suarez's third goal followed soon after. I'm almost struggling to put into words just how good it was. I reckon only 2 or 3 players in world football have the craft, technique, and skill to be able to score such a goal- and we are lucky that 'our Luis' is one of them. The flick, the explosion of pace and the finish quite possibly eclipsed the raw beauty of the first goal. 3-0 up and coasting. One thing that I noted was that Raheem Sterling's confidence started to grow throughout the first half and also what an excellent game Jon Flanagan was having at left back.
The 2nd half started and we really took control of the game, displaying some excellent pass and move football with Mr. Suarez and Coutinho weaving their magic. Raheem opening up the right hand side of the pitch more and more, and Jordan Henderson also imposing himself more and more on the game.
The fourth was only a matter of time and it was no surprise when Suarez buried a world class 'trademark' free-kick into the hapless Ruddy's net. My mate commented that Suarez having a free kick is almost as good as us winning a penalty, and it was hard to disagree.
There was still time for a fifth with Suarez again in the thick of it chasing a lost cause and bullying the Norwich defense into submission for young Raheem to finish and cap off an excellent performance.
Another positive from last night for me was Luis Alberto. Although a cameo performance he looks like a player. Really good balance, mobile, and make the simple things look really, really easy. I have high hopes for him. Jon Flanagan had another excellent game, Raheem Sterling grew in confidence- as did Joe Allen too. But last night was all about Luis Suarez. Maybe I'm getting giddy but I genuinely believe that he can be the Maradona of his era. He is that good.
He has said today that he is really happy and will stay in the Premier League. Read into that what you will. I'd rather focus my energy into enjoying him whilst he is here. Living for the moment that is one of the greatest players I've ever seen playing for my football club.
The guy is a magician, and if 'staying in the premier league' means staying at ours, then we have without any shadow of a doubt found a new 'King of the Kop'.
All rise for King Luis…………