Liverpool (5) Norwich City (1): Points to Ponder as Suarez Sets Record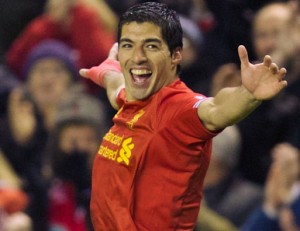 So much of the magic we saw last night get's lost when you try to put it into mere words; four wondrous goals from Luis Suarez saw the Uruguayan make Liverpool history by completing a hat-trick of hat-tricks against Norwich City as Liverpool downed their visitors 4-1 at Anfield.
Suarez now has eleven goals in five matches against the Canaries and each of them is good enough for the highlight reel. If the visitors thought they had the upper hand after the Reds put in a dire performance against Hull City on Sunday, they were sorely mistaken; it was an absolutely stunning response to the toothless display we saw on Humberside, one that each and every Liverpool supporter can go off and say "There, that's what we're capable of." Or, in the very least, that's what Suarez is capable of…
After a performance like that, it seems a bit trite to try to recount it all – you've seen the match, as well as the highlights on repeat, but there are a few talking points to garner from last night's victory, and of course, the main one comes courtesy of the man himself.
With Suarez banned at the beginning of the season, the onus fell to Daniel Sturridge to score goals – a task he met to great effect. Now that the 24-year old is on the treatment table until mid-January, the roles are reversed and the burden of finishing has fallen, once again, to the Uruguayan – a role he seems to relish. His tepid performance at the KC Stadium stirred up some lingering questions regarding his ability to produce match after match, but those were merely the result of a team performance that fell well short of anything close to inspired; everyone was under the spotlight after that, but his virtuoso display against Norwich City last night was as assuring as it was unsettling.
The goals he scored, you don't plan for; no amount of training is going to keep out a satellite guided 40-yard strike or an inch-perfect free-kick so stunning that your body is delayed in reacting to what your eyes just witnessed. Shots like that are hitting the back of the net no matter what. Even Raheem Sterling's winner came off the back of the hard work of Suarez and had the stars aligned just right for his teammates, I'd venture to say that the Uruguayan could have created as many as he scored — but those around him just aren't up to the same level . Truly, few are.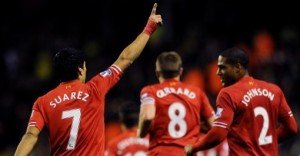 If you take Luis out of the side – through injury, or God forbid another suspension – then there's trouble. The visitors, it has to be said, did little wrong and had the Uruguayan not been on song, it's not so easy to point out who would have found the back of the net with a number of good chances left begging. Strikers score goals – that's just what they do – but the weight of the world can't rest on their shoulders for the whole 90-minutes week in and out; if we're going to keep our challenge up, goals will have to come from players that don't have the names Suarez, Sturridge or Gerrard on their backs.
It's admittedly a bit silly to fret about scoring when your team just vivisected another, but should the Reds finish the season without Champions League football secured for the following campaign, then the man will surely be on his way out the door; the kind of talent Suarez displays deserves to be showcased at the very top level, and if he's not going to get it on Merseyside, another top side will be more than happy to provide it for him. A return to winning ways last night kept us in the hunt for Europe, but if we want to keep fighting the good fight, eventually we're going to have to sort out our problems in both defense and the midfield.
The goal we did concede was text book garbage; take nothing away from Nathan Redmond's cross or Bradley Johnson's thumping header, but it shouldn't have happened. Our defensive frailties are baffling given the wealth of talent at our disposal and the fact that we've kept only one clean sheet in our last 12 matches is telling. Watching Norwich pass through our midfield only exacerbated our problems at the back and the arm chair pundits who point to the middle of the park as our Achilles heel are spot on. Flashbacks of the loss to Southampton kept reverberating despite the score line; our problems through the center have been brewing for quite some time and will certainly come to head near the end of the month when we face the likes of Chelsea and Manchester City. I shudder to think was will happen — bar a flawless performance from the Lucas of old.
And now, a match reaction that should have overflowed with positivity has turned a cracking win into what sounds like another resounding loss; Hull City turning over on Sunday had been coming for quite some time and brought forward a number of issues those of us with rose tinted glasses were glossing over since the campaign kicked off. We've got problems, there's little doubt of that, but we're growing as a team and the response we witnessed last night can't be disputed. Hopefully, the performance we turned in at the KC Stadium was just something we needed to get out of our system – we've got West Ham United visiting on Saturday, and on the back of the Luis Suarez show, they're going to have problems.
–Steven
Sorry for being such a miserable geezer.