Time to Hammer the Irons: West Ham United Preview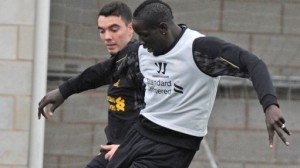 Liverpool go into this weekend's match with West Ham – their third outing in a week – having split the points in their last two games in seriously contrasting fashion. The 3-1 loss at the hands of Hull City is being hailed as the worst performance of the season, while their 5-1 routing of Norwich City only a few days later is predictably being called one of the best. What, the question remains, does tomorrow bring?
Following the loss at the KC Stadium on Sunday, Reds winger Raheem Sterling called on the club to snatch all six of the points up for offer during the remainder of the week and the 18-year old did his part by topping off Luis Suarez's four-goal master-class with the winner on Wednesday night. If the complete and utter decimation of the Canaries is any indication of the mood Brendan Rodgers side is in, then getting that other three points isn't going to be a problem.
Or will it? It has to be said that Chris Hughton's side did very little wrong midweek and the result – no matter how celebrated – was a little harsh on the visitors. No amount of time on the training pitch is going to prepare you for a player in the kind of form Luis Suarez is in; he seems to find a completely different level every time he faces off with the Canaries and his history making hat-trick of hat-tricks just goes to show that when the man is on song, he's pitch perfect. The rest of the side though? Their harmonies were a bit flat and that's exactly the kind of thing Sam Allardyce is going to look to exploit on Saturday – if you can't stop Suarez, you have to find other ways to beat-up on Liverpool.
The last time West Ham United came to Anfield, they were able to sneak a point; doing it again will surely be seen as a result after a run of form that's seen the Irons win only once in their last six matches. The low point – or, at least what looks to be the low point — came when a rare win for newly promoted Crystal Palace got them off the foot of the Premier League at the expense of their more established opponents. It goes without saying that Allardyce, who has never been one to pull punches, was less than enthused.
Marouane Chamakh's first goal since August helped new Eagles boss Tony Pulis grab three crucial points, and with the goal coming before the half-time break, Allardyce rued the many missed opportunities to level. "On such a crucial game we should not have let that slip. A point at the end of the day wouldn't have been a bad result" said the Hammers manager, who laid the blame directly on his side. "It's all our fault today" he conceded.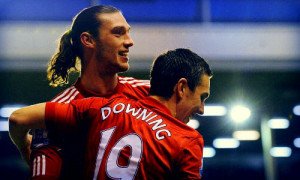 Losing to Palace is never acceptable and West Ham will be looking for a response on their travels with Liverpool old-boys Joe Cole and Stewart Downing likely to feature, though Andy Carroll has just returned to training after seven months out and won't be anywhere near the starting line-up come Saturday. Neither player has made much of an impact since switching Merseyside for London; Cole, for example, was hauled off after only 40-minutes in the Hammers 3-0 loss to former club Chelsea at the end of November. That, of course, is music to our ears.
It's been a torrid campaign thus far for 17th West Ham and a loss tomorrow could very well push them closer to the relegation scrap – something Brendan Rodgers won't lose any sleep over. Up at the other side of the table, the Reds have slipped into fourth place in the Premier League after holding steady in one of the top two spots since the beginning of the campaign. With matches against Tottenham, Manchester City and Chelsea coming before the calendar turns, the Reds boss will be banking on taking full points against the Hammers with the other results less than assured.
We got a curve ball midweek when Joe Allen replaced Lucas in midfield, though it's unlikely we'll see the same come tomorrow. The diminutive Welshman did little wrong against Norwich City, but memories of seeing his side out-run and out-worked by Mohamed Diamé will surely hand a recall to the more defense minded Brazilian. The central defensive pairing remains a crap-shoot so you can take any one of Martin Skrtel, Daniel Agger, Kolo Toure and Mamadou Sakho to partner each other. Ex-Hammer Glen Johnson and local lad Jon Flanagan are pretty much nailed on to cover the flanks while Steven Gerrard and Jordan Henderson are the likely choice to team up with Lucas in the midfield.
It goes without saying that Luis Suarez will start-up top on Saturday after bagging an earth shattering four goals against Norwich City on Wednesday and Philippe Coutinho, as long as he's still fit, will certainly occupy one of the other slots. You've got your choice between Victor Moses – who hasn't looked so hot since scoring on his debut against Swansea City way back when -, Raheem Sterling – who showed an unflattering selfish side on Wednesday –, and Iago Aspas – malaligned since arriving from Spain in the summer – to fill the other spot. Regardless, this should be three points for us.
I hate to make bold predictions; we've seen week over week that there are no easy games in the Premier League, but following Wednesday nights massacre, there's sure to be some magic still floating around in the air at Anfield. If we want to keep pace, we're going to need to take advantage…
–Steven
Be sure to pop by before the match for the starting line-ups and afterwards for a full reaction and other goodies. In the meantime, give us a follow on Twitter and a like on Facebook; don't be a stranger.