Suarez Loves Doing His Job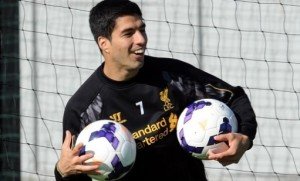 On the back of the Liverpool striker's four goal master-class against Norwich City on Wednesday, Suarez has been the toast of the town with more than just the Reds hierarchy singing the Uruguayan's praises.
The January transfer window could very well bring a repeat of the acrimonious on-again, off-again transfer speculation we endured this summer, but for the time being anyway, the man from Salto is just focused on doing his job – and it's a fine job he's doing. "My aim is just to help make the team better. My job is just to score the goals that mean we keep winning games and get as high in the table as possible" said the striker with one eye firmly on the visit of West Ham United this weekend.
A 3-1 reversal at the hands of Hull City over the weekend saw the Reds tumble down the table and into fourth place in the Premier League. The race for Champions League football has been a tight one this season with the top of the table congested with potential challengers and a mere six point separation between ninth place and third. While the Reds early season form saw them take a firm hold on the summit, recent results have been less favourable with Brendan Rodgers side dropping crucial points to Everton and Hull; still, Suarez is convinced that the team can hit the mark.
There's been no secret made of Liverpool desire to make a return to Europe's most lucrative club competition and the striker believes that it's within our reach. "I don't know about challenging for the title, but we want to be as high up in the table as possible and do as well as we can said" the Uruguayan. "I think we can achieve our target." A number of high profile matches on the horizon makes tomorrow's meeting with West Ham all the more important if Liverpool are going to keep pace – but having Suarez in the side should give them that extra boost that they need.