Liverpool to host Oldham Athletic or Mansfield Town in FA Cup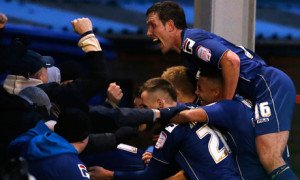 It's December — that means it's almost FA Cup time, and with the draw for the third round taking place earlier today, the Reds have a familiar set of opponents on offer with either Oldham Athletic or Mansfield Town ready to make the journey to Anfield at the beginning of January.
Yesterday's 1-1 draw at Oldham's Boundary Park set up a replay between the two sides who squared off against the Reds in last seasons competition. Mansfield Town will host the next encounter at Field Mill on December 18th with a glamour meeting with the Merseyside outfit the reward for the winner.
League One Oldham are currently 14th in the table while Mansfield Town are 18th in League Two — neither side should represent too much of a problem for Liverpool, who trashed West Ham United 4-1 yesterday, but that's exactly what we thought last year.
Brendan Rodgers hasn't exactly been able to find a his feet in cup competitions since taking over at Liverpool — the Reds have already dropped out of the League Cup this season. In last years competition his side navigated a tense meeting with Mansfield Town 2-1 in the same stage before dropping out of the competition to Oldham with a shock 3-2 reversal. Hopefully history doesn't repeat itself…