Martin Kelly Ready to Fight for His Place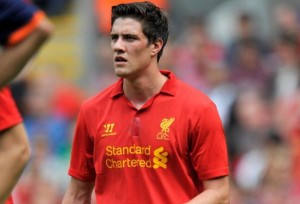 After almost a year and a half on the sidelines, Liverpool defender Martin Kelly feels he's finally back to full fitness and ready to challenge for a spot in the starting eleven.
A rupture to his anterior cruciate ligament in September 2012 during a match against Manchester United put the local lad on the shelf and he's struggled to find the kind of fitness and form that made him such a promising talent – something that's not uncommon to major injuries. "Ask anyone who has had a long-term injury and they'll tell you it's tough to get back to that level you were at before the injury" said the defender. "It takes time and it comes back slowly. Now I'm back nearly to peak fitness and I'm ready to go." Given the Reds fixture list over the coming weeks, any player returning to squad is a major boost.
Liverpool faces Tottenham Hotspur this weekend and host Cardiff City the weekend after before visiting both Manchester City and Chelsea over a three-day span. With a number of high profile injuries depleting Brendan Rodgers squad, Kelly, who made his return against Manchester United in September and has two cameo appearances under his belt since, could give the boss another option – even if it's from the bench.
"It has taken longer than I hoped to get back to this level but that's been brought on by us not being in the Europa League or having much of a run in the League Cup" said Kelly. "I was just made up to get on against West Ham and now I need to keep progressing. I've been working hard and I feel a lot fitter than back in pre-season." The upcoming meeting with either Mansfield Town or Oldham Athletic could give the 23-year old a chance to return to the starting eleven, but for now, let's hope the first team stays fit over the winter break; we don't need any more surprises…