Liverpool Look to Shake off Bad Luck in North London: Tottenham Preview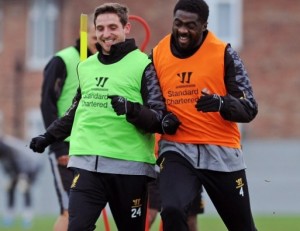 It's a bit awkward to talk about; after sections of Reds fans spent the summer drooling over Tottenham's spending spree, Liverpool go into their first encounter of the campaign with the London side sitting three points and four places below them in the table. Don't let your obvious amusement get out of hand though – we're coming face to face them on Sunday.
It's the middle of December, and despite some expected stumbles, Brendan Rodgers side continues to punch above their weight, but they're going to need to find a way to win on the road if they want to keep the chasers at bay. Liverpool's results on the road this season haven't been anything to write home about; couple that with the fact that White Hart Lane has been less than hospitable  in recent seasons and there's real cause for concern. Three points for the home side has become the de facto result with the Reds winless in their last six visits, and if they're not careful, it could quickly become seven.
Then again, Spurs home form hasn't exactly been sparkling this campaign. With a good start to the season behind them, Andre Villas-Boas spent the autumn tinkering with his side in an attempt to bring his new charges up to speed with the rigors of the Premier League and they experienced a dip in form accordingly. Although they seem to be back on track with a run of five games unbeaten, they're going to have to dig deep on Sunday if they want to get their Champions League ambitions back on track.
Since being thrashed 6-0 at the hands of a rampant Manchester City side, Villas-Boas has steered his side to a draw with the Citizens neighbours, as well as wins over Premier League strugglers Fulham and Sunderland. While the Reds are coming off three matches in the span of a week, Tottenham was in action last night when they rounded off the Europa League Group Stage with a 4-1 win over Russian side Anzhi Makhachkala – a game which saw summer recruit Roberto Soldado score his first hat-trick for the club.
It also marked the £26mil striker's first goals from open play since his move from Valencia this summer; a fact that hasn't been lost on the Spurs boss who confirmed that even his three-goal tally may not be enough to keep the Spaniard in the side. "We have to think about it," said Villas-Boas regarding Soldado's chances of featuring against Liverpool on Sunday. "Now it's about putting the best possible strategy of the game and seeing what we can do." Maybe "seeing what we can do" will include making Roberto watch endless tapes of Luis Suarez while Jermaine Defoe starts in his place; to be fair, it wouldn't be a bad idea..
If Spurs want to stop Brendan Rodgers side, they'll be faced with the monumental task of keeping the Uruguayan at bay; an almost impossible feat considering his recent run of form. Suarez now has a staggering 15 goals from only 10 Premier League matches this season and when you consider that Tottenham have the same tally collectively as a team in 5 more matches, there's an extra sense of awe added to his obvious threat. Still, the Reds aren't the same side that started off the season with three wins anymore with injuries blighting the options available to them.
Steven Gerrard is the most recent casualty after pulling up against West Ham United last weekend and the Reds skipper will spend the next 4 – 6 weeks on the sidelines. He won't have to worry about being lonely though as both Daniel Sturridge and Jose Enrique will be around to keep him company as they work through their respective ailments. Thankfully, Jordan Henderson has shaken off a knock he picked up during the win over the Hammers and will be ready to face Tottenham this weekend; he's expected to join Joe Allen and Lucas in the middle of the park as the Reds boss finds out exactly how well his side is going to cope without their captain.
The heart of the defense remains anyone's guess; Glen Johnson and Jon Flanagan look like they're nailed on to start on the flanks while Simon Mignolet is the obvious choice in the net, but any one of Liverpool's center halves could feature against Spurs. The duo of Martin Skrtel and Mamadou Sakho combined well to keep their visitors relatively quiet last Saturday, but the Slovakian's luck turned on him once again as he scored his second own goal of the week following a mistake against Hull City the previous Sunday. Former Arsenal man Kolo Toure will be itching for a recall against one of his oldest foes while Daniel Agger has shaken off the illness that kept him out of the lineup last weekend. Put any of those names in a hat and pick two – that's about the best we can do.
Up front seems to be a bit more settled though with Luis Suarez ready to add a few more notches to his headboard; he'll no doubt be joined by Philippe Coutinho, but the other flank is questionable with youngster Raheem Sterling missing a number of chances against both Norwich City and West Ham United. The more experienced Victor Moses could get the nod ahead of the 19-year old, but the Nigerians form hasn't exactly inspired lately. No matter who starts, they'll have to be ready to take their chances when they're presented – there will be no room for error come Sunday.
When you're fighting for Champions League qualification, every match is important and facing your closest chasers takes on an extra edge. Although stumbling at White Hart Lane has become almost expected, Brendan Rodgers hasn't been one to conform to old ways; the Northern Irishman has banished the Stoke City hoodoo, beaten Manchester United for the first time and done away with the residual curse of Roy Hodgson with a 4-1 win over West Bromwich Albion. Beating Tottenham at the Lane and keeping our top four chances alive isn't outside of the realm of possibilities – I'm going to venture a guess and say it's going a very good possibility.
–Steven
Think we're going to shake off our problems in London and take full points on Sunday? Or do you think our injuries are going to be a major determent to our cause? Let us know in the comments or give us a shout on Facebook or Twitter; we'll be around.