Villas-Boas and Johnson Talk Suarez Threat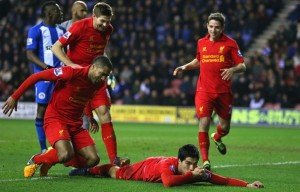 The general consensus is that if Tottenham want to stop Liverpool, they're going to have to keep man of the moment Luis Suarez, who now has 15 goals in 10 match, out of the game. Spurs manager Andre Villas-Boas, and Liverpool defender Glen Johnson, both agree.
With a number of key players watching from the sidelines through injury, Suarez is very much the focal point of Brendan Rodgers side — something that's not lost on Villas-Boas. "So we have to be aware not only of the people that feed him but the actual individual moments of brilliance that we saw this season, that have been so decisive for Liverpool" said the Portuguese boss. "He's a key player for them and very difficult to stop." Glen Johnson, who'll be one of the players looking to create chances for the Uruguayan to finish, has echoed those sentiments.
"He is clearly a massive player for us and some of the goals he has scored have been laughable" said the Reds fullback and one only has to think back to the 5-1 demolition of Norwich City to recall four goals that left more than one pundit with slack jaws. Still, Johnson rightly points out that relying just on Suarez to provide goals is nothing short of folly.
"We need Luis to play and continue this form but we have a good squad, it is not just all about Luis" he said. "Clearly we want to be getting goals from set-pieces, goals from midfielders, everyone chipping in, you can't just lean on one person." With Spurs certain to give the Uruguayan a whole lot of attention, the rest of the squad is going to show what they're made of and step up their game if we're going to get anything at White Hart Lane tomorrow. This isn't the best match to be missing the likes of Daniel Sturridge and Steven Gerrard…