Jordan Henderson vs. Tottenham Hotspur: Video and Stats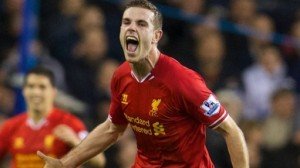 On more than one occasion, I've heard that Jordan Henderson does "nothing". Yesterday, the 23-year old took a massive step in dispelling that rather silly — and altogether ignorant — myth.
You had to question whether the former Sunderland man was going to find his way back into the squad when Brendan Rodgers took the helm at Liverpool, but after missing out for much of the opening stages of the Northern Irishman's first season in charge, Henderson has fought his way back into the starting eleven and as of writing has started every one of the Liverpool's league matches this season. Yesterday, in the 5-0 win over Spurs, we saw the Henderson that Kenny Dalglish saw when he signed him as he put in a Man of the Match performance that was arguably his best this season — if not ever.
Video by MostarLFC
The boss is a fan

Yesterday was a good day for Jordan Henderson. If his low point this season came during the 3-1 defeat against Hull City, then the rout at White Hart Lane was definitely his watershed moment as the midfield man scored his first league goal of the season to show he has an appetite for a blowout; his last strike came in the 6-0 demolition of Newcastle United last May when he bagged himself a brace.

Although he only took 2 shots, he was able to put both of them on target — a huge improvement over the dour 27% shot accuracy he had going into yesterdays match. With a number of high profile players out injured, Reds boss Brendan Rodgers called on the squad to pick up the slack and Jordan in particular has helped fill in the hole left by Steven Gerrard 92% of his passes completed — including 7 Gerrardesque long balls.

The Captain has been one of the Premier League's best at creating chances and Jordan took a stab at that as well with 3 good opportunities created yesterday which included 1 assist. All told, the former Sunderland man has now created 29 chances this season.

He wasn't just good in attack either; as Spurs looked to get a footing, Henderson played his part in the three-man midfield unit along with the equally impressive Joe Allen and Lucas who kept their much flashier opposition quiet throughout. The 23-year old won 83% of his duels — a cut above the 42% he was boasting coming in – which included 2/3 tackles and the 1 headed duel he attempted. Not only that, but he didn't concede a single foul, but drew 2 of them.

Stats courtesy of Squawka
When asked about Henderson after the match, the Reds boss praised his performance — and the foresight of his predecessor to snatch him up. "I think it was a great buy by Kenny to bring a player of that quality in" reflected Rodgers. "As a young player that's hungry to learn – he's 23 years of age, he's 6ft1in and he can run all day, he's technically very strong, tactically he is understanding when to press and when to drop in."
With Steven Gerrard on the treatment table, much of the attacking impetus from the midfield fell to Henderson yesterday and he responded in kind with a goal and a assist to his name. "His goal, technically, was a wonderful goal. He's a terrific player, he just needs confidence and constant work. He has been outstanding for me" enthused the Northern Irishman. With a number of high profile matches on the horizon, including trips to Stamford Bridge and the Etihad Stadium, we're hoping he'll be able to keep standards high; his side are certainly counting on it.
Rodgers knows this all too well; on more occasions than one it's been more defensive lapses rather than real attacking threats that have lead to his side conceding. It goes without saying that Henderson is going to have to be just as good defending as he is attacking if he's going to shine against the likes of Manchester City and Chelsea.
"When we have that focus and concentration, we're a very good side. Jordan is a mentally tough boy, he's so strong, and such a humble kid as well" said Rodgers who sounded like the cat who had just enjoyed a nice mouse dinner when he continued. "He's only going to get better and better." We've seen a massive progression in his game since he arrived as a promising, raw talent from Sunderland; if that's what you call doing "nothing", then long may it continue.
–Steven
Like this post? Please share it on your social media network of choice; or, on all of them. Honestly, I don't mind one bit.