Cardiff City Build-Up: Mackay Ultimatum, Noone Wants Anfield Start and Mutch has a Plan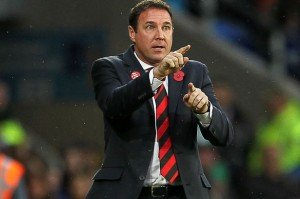 After Liverpool rolled Spurs over 5-0 at White Hart Lane, there's been renewed focus on the Merseysiders title chances and the renaissance they're currently experiencing under Brendan Rodgers; Cardiff City, in contrast, also found some joy on the road last Saturday, but things aren't rosey in Wales with baffling scenes playing themselves out at the newly promoted club.
Andre Villas-Boas was sacked by Tottenham following their utter capitulation to the Reds last weekend and it looks like another opposing manager is about to get canned with Bluebirds principal owner Vincent Tan, who has been criticized and lauded in equal measure since taking over the club in 2010, calling for boss Malky Mackay to resign or be dismissed after tensions between the two reached a head yesterday.
The Scotsman isn't even getting a chance to get crushed by the big red machine — Tan wants him gone now. Despite the newly promoted side punching well above their weight, there has been talk of Mackay leaving Cardiff as his relationship with Tan became even more strained following the very public revelation that no transfer funds would be made available in January, but that "talk" has now become a bit more than that with reports that the hammer is soon to drop.
Reds boss Rodgers, who worked with the Scotsman during his time at Watford, is absolutely baffled by the breakdown with Mackay who he rates quite highly. "He's going to go on and become a big manager at a top club and I find it astonishing there's talk about him leaving there, absolutely astonishing" said the Liverpool manager. "My only conclusion when I look from the outside is you've got a business guy operating the club who obviously knows nothing about football."
Whether Tan actually knows anything about football is debatable of course, but it's pretty safe to say that Mackay has a good understanding of the game; after a 51 year absence from the top-flight, the Scotsman has the Welsh side holding their own and in a very respectable 15th place in the table – four points out of the relegation zone and ahead of sides like Fulham and Sunderland who are far more established in the Premier League. Last weekend they secured a vital win over fellow strugglers West Bromwich Albion with Merseyside born – and former Liverpool trainee — Craig Noone making his first appearance in the side since the club hit the big time and the winger is hoping to be in the squad that runs out at Anfield on Saturday.
Mackay may not be the one to give him the news, but Noone is just hoping to be in the mix. "If I feature in the team and get out there it will be special. That's when it will really hit me" said the 26-year old. "It will be surreal, but I'm really looking forward to it – if the chance comes." A more defensive formation may be on the cards as whoever is in charge of Cardiff City come Saturday try to keep the free-scoring Reds off the board — no easy task in itself. Still, the Kirkby born winger is remaining positive.
"When you're not playing it can be frustrating, but it's no good moaning and groaning" he said. "You have to take a step back, have a look at your situation and see what you can add to your game." To be fair, someone is going to have to step up if the Bluebirds are going to find some measure of revenge for their League Cup final loss to the Merseysiders in 2012; thankfully for the Bluebirds, Jordon Mutch has a plan.
We're not quite sure what it is yet — he failed to elaborate on exactly how he proposes to stop a side that has scored 14 goals in their last three matches — but the midfielder believes they can cause an upset at Anfield. "If we maintain the team spirit we've shown this season and stick to our game plan we believe we have every chance" said Mutch, who continued, "We will have a game plan and will go out to do the best we can."
Hopefully his "plan" doesn't involve Malky Mackay — the Scotsman might not be around to see it fail come Saturday.
–Steven
Any Cardiff City fans want to weigh in? Will Malky be gone come Saturday? Can Noone give Liverpool problems? Does anyone know what Mutch's plan is?