Suarez Celebrates Liverpool Contract with a Bunch of Booze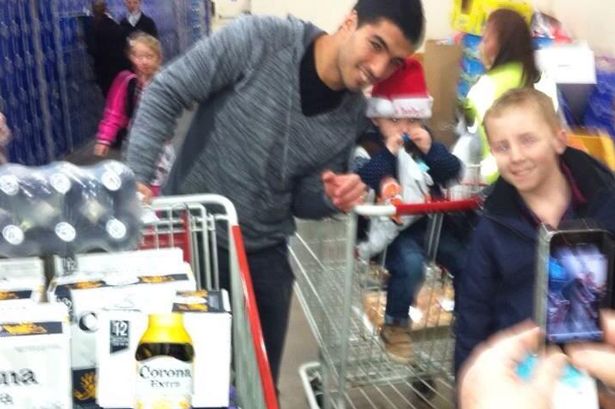 Luis Suarez may have just signed a new contract worth a reported £225k per week, but the frugal Uruguayan has remained budget minded – especially when it comes to booze.
Just hours after putting pen to paper on his new Liverpool deal, the striker was spotted loading up a cart full of "Holiday Cheer" and posing for pictures with fans in the Merseyside branch of budget supermarket Costco; considering the form he's in, he's probably banned from Tesco.
The Reds striker has bagged himself 17 goals in his last 11 appearances – including a double in Liverpool's 5-0 demolition of fellow top four rivals Tottenham Hotspur last weekend. The Uruguayan has ended months of speculation, including whispers of a January move to Real Madrid, by re-affirming his commitment to the Merseyside club with the Reds now looking like viable contenders for a Champions League spot in May.
Brendan Rodgers men meet Cardiff City in the early Premier League game tomorrow with a chance to go top of the league – if only briefly — with current incumbents Arsenal not playing until Monday. Hopefully Suarez won't be celebrating too hard ahead of tomorrow's match; though, to be fair, he could probably hack it with a hang-over.