Brendan Rodgers on Chelsea Loss: Post Match Interview and Rueing a Paper Thin Squad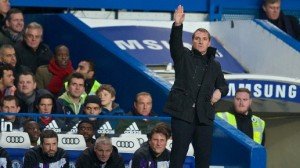 Three matches in the span of eight days is trying for any squad, let alone one that's as paper thin as the one Liverpool are currently stuck with. Although the Reds rolled over Cardiff City at home and gave an impressive account of themselves away at two of the toughest grounds in the Premier League, one's left to wonder what could have been.
With Daniel Sturridge, Steven Gerrard and Jose Enrique on the treatment table to kick off the busy festive period, and with Jon Flanagan soon to follow, there wasn't much wiggle room for Brendan Rodgers. All you could do is snicker as his contemporaries drew on deep squads for rotation and substitutes as the Northern Irishman was reduced to handing an unproven 19-year old his debut while chasing the game at Stamford Bridge. If you don't laugh, you cry, but come January, the hope is Liverpool will buy rather than be left looking for the tissue again.
Video by SportMediaHQ
"It was difficult, there was no balancing – we had to play the same team bar one" conceded Rodgers following the Reds 2-1 reversal at Stamford Bridge. "I looked at Manchester City's team yesterday and I think they changed seven players. Today, Chelsea were able to do that." Although the Blues didn't quite make the wholesale changes that City were afforded, each of the changes were arguably like-for-like with little loss in quality shifting them on from the bench to the starting eleven.
Rotation is one thing, but what's even more staggering was the substitutes that Manuel Pellegrini was able to call on when Liverpool narrowly missed out on a share of the spoils at the Etihad. The Chilean pulled no less than £70mil worth of players off the bench — keep in mind that despite their immense wealth, City only get three subs like the rest of us peons. Rodgers, in contrast, was very much the Pauper to his counterparts Prince.
"But that's where we're at" he said. "The squad has been thin all year. We have been fortunate we've kept players fit. It's just unlucky that we have played two of the best squads in the league back to back. That would always make it tough for us." Thankfully, we were also able to make it tough for them.
We've dropped from first on Christmas Day to fifth come New Years day, but when you consider the quality of players we have on the treatment table and the way the squad has stood up to be counted, we're doing better than expected. "That's why I've got so much credit to give to the players, because especially at Manchester City, they were outstanding" enthused the Reds manager. "Today, they have given everything to the game."
Unfortunately, that everything appears to have come with a price; Joe Allen had to be substituted on the hour mark and Mamadou Sakho pulled up with a hamstring problem as time ran out. Although he finished the match, Jordan Henderson will also need to be assessed ahead of Wednesday's meeting with Hull City. Steven Gerrard, tipped to be fit for the first match of the year, can't return soon enough.
With the winter transfer window opening the same day that Liverpool host the Tigers, reinforcements are expected — and will be needed if Liverpool are going to keep up the kind of form Rodgers is so proud of. "Over this year and in the first 19 games this season, we have shown that if we get players back and get some help in January with a few more players, we can be in the shake-up. That was the biggest thing" said the Northern Irishman.
It's Champions League or bust folks; 19 more games and counting.
–Steven