Duo set for Spell on the Sidelines as Reds get Gerrard and Henderson Boosts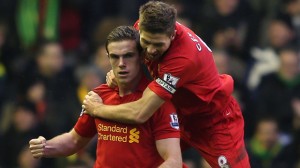 It's a mixed bag for the News Desk this afternoon with Reds boss Brendan Rodgers confirming that Steven Gerrard could return from a hamstring injury to face Hull City on New Year's Day and that Jordan Henderson will be fine following a knock picked up in yesterday's 2-1 loss to Chelsea.
The Captain has been out since December 7th after pulling up in Liverpool's 4-1 win over West Ham United at Anfield but a faster than expected return from injury has him slotted to return when Brendan Rodgers goes looking for revenge against Hull City as the calendar rolls. Jordan Henderson has done an admirable job filling a more advanced midfield role for the Reds in the absence of the Skipper, and the news that he'll be fit come Wednesday is a boost in itself; but the rest of what Rodgers had to say wasn't what we wanted to hear at all – although it comes as no surprise.
Liverpool has seen a thin squad get thinner with a pair of injuries picked up in yesterday's reversal at Stamford Bridge. Joe Allen, having just returned to the first team, was the first casualty when he went down on the hour mark. "Joe will probably be a few weeks with an abductor strain" confirmed Rodgers, who also provided an update on defender Mamadou Sakho who was replaced by Kolo Toure as time ticked down. "Sakho, we're just waiting for confirmation on his hamstring strain" said the Reds boss.
Although we're without a timeline at this early stage, both injuries are a serious blow to Liverpool's European ambitions as Sunday's loss saw the Reds drop out of a Champions League spot with Rodgers left to rue his thin squad. "It's just been unfortunate. The medical team aligned with our training philosophy have meant the players have been fit for the majority of the time I've been here" said the Northern Irishman. "It's just really in this last period of four or five weeks, which have unfortunately dealt us a big blow in the squad."