Hull City Build-Up: That Fulham Win, Huddlestone's Hair and Bruce Has High Hopes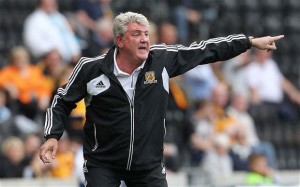 There's not a whole lot of time to sit and stew about our first back to back defeats in a dogs age as the Festive Fixture List closes out with Hull City coming to Anfield on New Year's Day as the Reds look to get back to winning ways.
We may have put in a good account of ourselves at two of the toughest away grounds in the league, but that doesn't do us much good in the race for Champions League football; Hull City, on the other hand, don't have to worry about chasing European competition next season, but they're moving on up nonetheless with a demolition of Premier League strugglers Fulham seeing them hold down a respectable 10th in the table at the half-way line.
If the 3-1 win over the Reds at the beginning of the month was the newly promoted side's biggest scalp thus far, then the 6-0 win over Fulham was arguably their best performance of the season – if not ever. Despite dictating much of the play during the opening exchanges, Steve Bruce's side was struggling to find a go-ahead goal to pair with their dominance, but in the second half the floodgates were well and truly opened with five different goal scorers on the sheet and midfielder Robert Koren bagging a memorable brace.
The Slovenian may have doubled up, but a good chunk of the post match chatter has been dedicated to another midfielder with Tom Huddlestone scoring his first goal in two and a half years – and losing a chunk of his famous afro in the aftermath. The former Spurs man pledged not to cut his hair until he scored his next goal as part of his "Huddlefro" charity challenge which has helped him raise over £27,000 for Cancer Research UK, but his 20+ yard blast past Fulham 'keeper David Stockdale lead to an impromptu on-pitch trim with the lock of his hair being listed on auction website eBay following the match.
Hull City boss Steve Bruce was more interested in Tom's performance than his hair though. "I don't often pick out individuals but I don't think I've witnessed a performance as good as I've just seen from Tom" enthused the former Manchester United man. "He gave a masterclass of how to play in midfield. He had the lot: free-kicks, passing range, goals, a shot from 40 yards. He hit the post and the bar… he's just an outstanding footballer, absolutely outstanding." No word yet whether the Tiger's gaffer is going to place a bid for a clump of hair from his favorite footballer ever, but all money raised will go Cancer Research UK – not Hull City's transfer budget.
Much like that ant trying to move a rubber tree plant, Bruce has high hopes. With the January transfer window opening the same day that his side visits Anfield, the Hull City boss is ready to dip into the transfer melee and has targeted West Bromwich Albion striker Shane Long as priority numero-uno. Under fire owner Dr Assem Allam – who controversially renamed the team to Hull City Tigers over the summer – is said to be ready to make funds available for Bruce as long as the price is right.
The Baggies man was on the verge of joining his side during the summer and a renewed bid for him is exactly what Bruce wants as he tries to stave off clutching hands from the lower echelons of the table. "We are halfway there, we are top of our league to be in the top 10 and from us downwards we are all looking over our shoulder. We are lying if we say we are not because there are big teams with big squads." While the addition of Long certainly won't help out on New Year's Day, another good performance could go a ways in convincing him to switch the Hawthorns for the KC Stadium.
While we're hardly bothered where Shane Long plies his trade, it's safe to say that Brendan Rodgers isn't all too interested in helping Steve Bruce make his side a more attractive prospect for him. This is the business end of the season and three points on Wednesday is vital…
–Steven