Should Old Acquaintance Be Forgot: Hull City Preview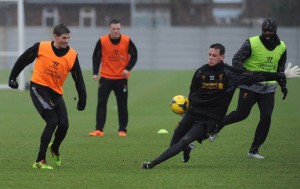 Ending the season on a high never happened; the promise of a table topping Christmas Day gave in to the cold, hard reality of New Years as we go into Wednesday's fixture sitting outside the top four for only the second time this term.
While calendar year stats are en vogue at the moment, they only matter if you're looking for trends long term. On a freezing winters morning, I'm only concerned with beating Hull City and the table come May – we'll leave the January to December stuff for another day. If the pundits are to be believed, then our aim of a top four finish should be all but wrapped up. More than one talking head is jabbering away that for the last 15 years running if you're top at Christmas, you at least qualify for the Champions League. So, before I add my meager voice to the chorus, let's not put the cart before the horse – we have revenge to extract.
The 3-1 reversal to the Tigers at the KC Stadium at the beginning of December was certainly the low point of the season; it was hard to think of a more insipid performance playing out either this campaign, or the more in style calendar year. Steve Bruce has always been a thorn in our side, both playing and managing, and with Liverpool's scalp already on display, to be quite fair, he's well placed to do the double come Wednesday.
Unfortunately, it's true. I always try to be pragmatic and give respect when it's due — and when you're up against a side that scored six unanswered goals their last time out, no matter who they are, you take notice. Five different goal scorers found their way onto the sheet for the Tigers against Fulham, including a brace for Robert Koren and Tom Huddlestone's first goal in almost two and a half years.
Despite Liverpool putting in a good account of themselves and barely missing out at both the Etihad Stadium and Stamford Bridge, they're coming off their first back to back losses of the campaign; Hull City, on the other hand, are certainly carrying the momentum. Even when you put aside their demolition of Fulham and embarrassment of us, they've shown that when they're not winning their only narrowly coming up short with the 3-2 loss to Manchester United being the most poignant example.
We could be in for some trouble; Brendan Rodgers confirmed yesterday that Steven Gerrard could be fit enough for at least a spot on the bench and that Jordan Henderson will recover from the knock he picked up in the 2-1 loss to Chelsea on Sunday in time for kick-off tomorrow, but the rest of the news he had was less comforting. Both Mamadou Sakho and Joe Allen will spend spells on the sidelines after pulling up injured at Stamford Bridge, adding their names to a list that already includes Jose Enrique, Jon Flanagan and Daniel Sturridge. Thankfully, we still have a trick or two up our sleeves.
Complaining about a small squad has become a hobby of mine, but when Luis Suarez is available, we always have a chance. I'm sure that all goes without saying though; the Golden Boot heir apparent has been the most in-form player in the first half of the season and his 19 goals so far this campaign have been one of the driving forces behind the Reds ascent of the summit. The Uruguayan, who has never scored against Hull City, will certainly be looking to change that come Wednesday, and in front of the Kop, I wouldn't bet against him doing it. Liverpool has won eight of their nine home games this season while the Tigers have struggled on the road and have never won a Premier League match in the month of January.
It's safe to say that if we're going to keep pace, we have to keep winning. This may be the tightest race in a very long time, but the game remains the same; two points per game on average is all good and well, but if you want to be in the mixer come May, you need to be aiming for three. This side isn't resigned to defeat anymore; we were in it from the word GO at both the Etihad and Stamford Bridge and fought 'till the end. That winning mentality is exactly what we need and it appears it's here to stay.
New Years day is all about new beginnings, but I don't believe in that stuff at all. If you're going to change, you need to start today and not on some arbitrary date. We've already made the big change – now it's time to get better.
–Steven