Agyemang-Badu Would be "Honoured" to Play for Liverpool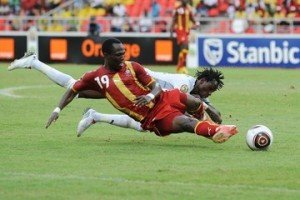 While everyone, including the News Desk, is preoccupied with Liverpool's highly publicized pursuit of Egyptian winger Mohamed Salah, the Reds have been quietly making plans to snap up another African star with Udinese defensive midfielder Emmanuel Agyemang-Badu supposedly on the verge of a £7mil move from the Italian club.
The winter transfer window is now opening for business and the Merseyside club enjoyed great success last January when they captured Daniel Sturridge from Chelsea and another star who was plying his trade in Italy with Brazilian playmaker Philippe Coutinho arriving from Inter Milan. Now, it looks like Liverpool will be going back to the continent with a bid in the coming days for Agyemang-Badu – something that the 23-year old would relish.
"It will be a dream come true to play a club like Liverpool," the Ghanian midfielder told Sportsxtra. "If the offer comes and the two parties (Udinese and Liverpool) agree, why not?" he continued. "My wife is a Liverpool fan so it will be a honour to play for such a big club."
It's believed that Reds boss Brendan Rodgers, along with the Merseyside transfer committee, are looking hard at new recruits as Liverpool look to make a return to the Champions League for the first time since 2009. The Anfield outfit is well placed to qualify after making their best start to the season since Roy Evans was in the charge of the club, and after dropping off the top of the table after Christmas Day, made a return to the top four over the weekend with a 2-0 win over Hull City. While attacking players are usually the ones that carry all the fan-fare, Agyemang-Badu could provide competition for the likes of Lucas and Joe Allen – the kind of players that have become essential cogs in the Liverpool machine.
More on this as it develops…