Mohamed Salah to Sign and Raheem Sterling to be Loaned?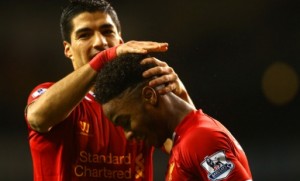 If the Reds transfer committee is trying to keep their pursuit of FC Basel winger Mohamed Salah quiet, they're doing a terrible job. The media has been rife with reports that the "Egyptian Messi" will be arriving at Anfield any time now, but a new detail appears to be leaking out regarding the future of Raheem Sterling.
Brendan Rodgers has been keen to add some new flavor down the right-hand side of Liverpool's attack for quite some time now and if Salah's performances against Chelsea in Europe are any indication of his potency, then the Merseyside outfit appear to be chasing the right man; but what of youngster Raheem Sterling who has picked up his game over the last few weeks to show that he's the kind of promising talent we all knew he was? Looks like he's heading for Wales.
A short term loan at Rodgers former club Swansea City looks to be in the works if the Reds are successful in snapping up Salah with Rodgers keen to keep the youngster in the first team picture – if not at Liverpool, then somewhere else. Sterling has made 17 appearances for the first team this season, including 8 successive starts since an injury to Daniel Sturridge left one half of the SAS strike force on the treatment table, and has responded to the increased game time in kind with a number of electrifying performances and 3 goals in his last 7 starts.
It's that kind of from that makes Rodgers believe that the 19-year old has a bright future at Anfield, but this is now and Salah, a more experienced player, is thought to be the preferred option for the time being – you know, that is, if and when we sign him. Unsurprisingly, there are conflicting reports in the media that are pegging his arrival date anywhere from today, to the end of next week with a fee of £12mil already agreed, or well wide of the mark. Typical transfer window shenanigans…