Liverpool Target Montoya at "Best Club"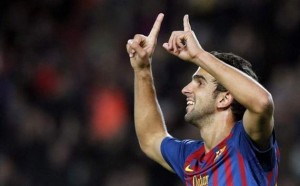 It's all quiet on the transfer front with a move for Egyptian winger Mohamed Salah taking longer than expected and a target everyone thought Liverpool had wrapped up in late November expected to re-enter contract talks this weekend.
Following Barcelona's 4-0 win over Elche on Sunday, Martin Montoya briefly spoke to the press about his future in Catalonia and insisted that he's relaxed about his future. The promising fullback has attracted the attentions of a host of clubs after failing to agree to a contract extension in Spain and the Reds were believed to be front runners for his signature after managing director Ian Ayre held talks with the Barca hierarchy near the end of November ahead of a January bid – things, it now seems, aren't quite as simple we might have thought.
"There is no hurry for me to sign a new deal," mused the talented 22-year old, who is enjoying life at the Nou Camp and working with one of the best fullbacks in the game. "Now I am at the best club in the world and I learn each day from Dani Alves." Although his contract expires in the summer and he's free to discuss offers from other clubs, Montoya doesn't seem all too bothered with his current predicament at all. "I believe that the negotiations are on the way but without pressure" he said.
Talks between Montoya and Barcelona are expected to resume this week with sporting director Andoni Zubizarreta believed to be interested in finalizing a deal as soon as possible. Whereas the Spanish giants see the highly rated defender as a potential long-term successor to Alves, it's believed that the Reds have targeted him as a replacement for the rapidly declining Glen Johnson, and should contract talks stall further, could be encouraged to make an offer ahead of reported fellow chasers Inter Milan and Arsenal. If he's having this many problems agreeing to a deal that will keep him at arguably one of the best clubs in the world, one can only imagine what it will be likely trying to convince him that rainy ol' England is the place to be; time to get out the checkbook.