Agger Rubbishes Exit Rumours After Being Ruled Out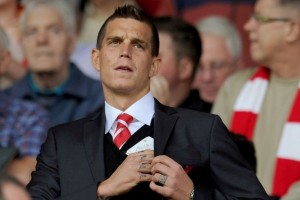 It's taken almost five days, but Liverpool have finally earned the extent of Daniel Agger's calf injury and, in a twist that surprises no one, a fresh set of exit rumours have accompanied news that the defender will spend the next month on the sidelines.
The big Dane, who has found matches few and far between with a rejuvenated Martin Skrtel and Anfield newcomer Mamadou Sakho holding down the fort, hobbled off in the closing stages of Liverpool's 2-0 victory over Oldham Athletic in the FA Cup on Sunday. A scan, it would seem, has been as hard to come by as a match for Agger, but it's now been confirmed by the club that the calf injury will keep him out of action for four weeks – and likely scupper any possibility of a loan move elsewhere.
The defender has been linked with a host of top sides in recent years with the likes of Barcelona and Manchester City both expressing an interest in taking the 27-year old into their camp. Although the Reds have resisted any and all moves for the center half, his most recent suitor in ex-Liverpool boss Rafa Benitez's Napoli side may be a different prospect altogether. A loan offer for the remainder of the season has been put on the table by the Italian side, but the Reds vice-captain continues to reject any talk of a move.
"I'm not thinking about moving at the moment, not at all," Agger told Danish publication Jyllands-Posten. "I've only seen what the papers say and I can't really do anything about it. There is no reason to believe these rumours." This has been the party line for some time now, and though it's hard to doubt the integrity of a man that's stayed at Liverpool through thick and thin, and though it's unlikely that the big Dane will be moving anywhere in January whether he wants to or not, the club may have different ideas come the summer.