Let's Get it Right the Sixth Time: Stoke City Preview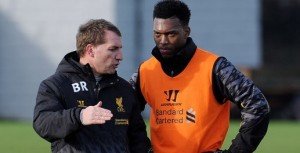 Brendan Rodgers banished the Stoke City hoodoo with a 1-0 win over the Potters at Anfield on opening day which saw Daniel Sturridge wrack up his first goal of the campaign and league debutant Simon Mignolet save a penalty; still, beating Mark Hughes side at home and beating them at the Brittania are two entirely different things.
While the opening day victory provided a welcome springboard for a run of form that sees Liverpool go into Sunday's meeting in fourth place, history, it would seem, is pulling entirely in favour of the hosts. Not only did they successfully spank a very poor Liverpool in this fixture last season, the Reds haven't taken full points away to Stoke since November of 1984 — although that only represents five previous fixtures, it's a bit embarrassing don't you think?
A brace from Jonathan Walters and a Kenwyne Jones strike ensured an unhappy Christmas for Reds fans everywhere as Brendan Rodgers side put in arguably their worst performance since the Northern Irishman took charge. As much as it pains me to admit it, not only was it one of our worst showings, we weren't quite as bad as Stoke were good.
The slow buildup and measured passing play Rodgers is known for was ripped to shreds as then Potters boss Tony Pulis proved he had the Reds well and truly figured out with rovings packs of rabies infested half-wolf half-velociraptors relentlessly stalking whoever had the ball. Maybe that's a tad bit dramatic, but as painful as it was to admit that the hosts were better than we were bad, handing over plaudits to a man that endorses a brand of football I personally despise leaves an even worse taste in my mouth — one I'll surely be washing away with something containing a vast amount of alcohol should we lose tomorrow.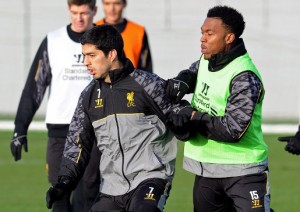 Mark Hughes has done what he can to rid Stoke of their less than kindly comparisons to neanderthal hoof-merchants, but change, as the saying goes, is slow. With that being said, they haven't lost at home in their last seven matches and have snatched points from the likes of Chelsea and all-conquering Manchester City this term with their win over Jose Mourinho's Blues sure to be the high point of the season.
If Stoke want to keep the screw turned tomorrow, it goes without saying that they're going to have to keep Liverpool off the board. Stopping Luis Suarez, who has scored more goals this season than the Potters have collectively, is a task all its own and the news that Daniel Sturridge should be a fit for at least a spot on the bench will do little to help the hosts get a sound sleep — especially with young Jack Butland between the sticks and Robert Huth sidelined. The rookie 'keeper will be standing in for the more experienced Asmir Begovic and Thomas Sorensen who are both out injured, and the veteran German defender, a thorn in the side of whoever he comes up against, isn't likely to be risked following a knee operation.
Liverpool, on the other hand, have their own defensive woes with Daniel Agger ruled out for a month after picking up a calf strain in the 2-0 win over Oldham Athletic in the FA Cup last weekend, though they can welcome back Mamadou Sakho to the squad after the Frenchman recovered from a hamstring problem suffered against Chelsea on over the festive period. If the 23-year old isn't fit enough for a place in the starting eleven, then Kolo Toure is sure to take up his spot alongside Martin Skrtel in the heart of the Reds defence with Aly Cissokho and Glen Johnson on either side of them. A midfield trio of Steven Gerrard, Lucas and Jordan Henderson is expected with Raheem Sterling, Philippe Coutinho and Luis Suarez leading the charge. Sturridge isn't quite ready for a return to the starting line-up so there's no reason to change a good, and winning, thing quite yet — that will come soon enough.
More of the same would be more than acceptable tomorrow; the Reds have been holding down a sustained charge for the top four since the word GO and if they're to keep moving forward with such visions of grandeur then beating Stoke is paramount. Of course it's important come May — three points are always better than any of the alternatives — but it can also play a huge part in the short term success of the squad. Winning somewhere you haven't won since the Mid-Eighties (I was a year and a half old at the time) is always good for morale — and for your image in the transfer market.
–Steven
Be sure to pop by before the match for the confirmed line-ups and other assorted news. 'cause, you know, that's real specific.