Brendan Rodgers Hails SAS Partnership After Liverpool Hit 5 Against Stoke City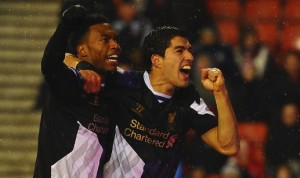 Liverpool may need a quality signing or two if they want to really boost their chances of sealing a Champions League place for the first time since the 2008/2009 season, but having Daniel Sturridge come back into the side today allowed pundits everywhere to engage in the well worn cliche of a saying a returning player is just as good as a new signing; except this time, it's not just hot air.
Although he was on the field for less than a half hour, the return of Sturridge — and with him, the SAS partnership — yielded a goal and an assist for both him and Luis Suarez as the Reds scored five at the Britannia Stadium. It's safe to say that Liverpool boss Brendan Rodgers is happy to see the two reunited.
"Both of them combined really well," enthused the Northern Irishman. "They're both outstanding players and outstanding talents." You have to wonder what the Reds point haul would have been like over the festive period had Sturridge not been injured. Suarez is good on his own, but he's even better with the 24-year old beside him.
"You could see from their link-up for Luis' goal, where Dan has slid it round the corner to him and Luis has finished it really well" said Rodgers. "Then there's Dan's movement for Luis to play him in [for the fifth], which was exceptional. It was such a short space and he's taken a defender in, put it back over his shoulder and scored. Butland has made a great save – I thought it was in the first time."
The pair of them have combined for an astounding 32 goals this season, and with Sturridge back in the line-up with the business end of the season on the horizon, Rodgers, and Reds fans everywhere, are looking forward to so many more.