Liverpool (5) Stoke City (3): SAS Reunited as Liverpool Win 8 Goal Thriller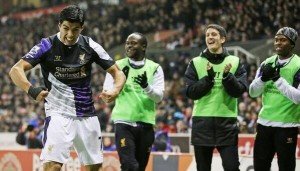 It's been a long time coming, but Liverpool finally take full points at the Brittania Stadium in an eight goal thriller that saw seven different names get on the scoresheet; that one won't be forgotten anytime soon.
The Reds haven't won away to Stoke City since November of 1984, though that looked like it was going to change right off the hop with Aly Cissokho's shot cannoning in off Ryan Shawcross and Luis Suarez chasing down a lost cause as Brendan Rodgers side raced to a good lead in the opening exchanges. Despite the promising lead, they never once looked comfortable as Mark Hughes side continued to press and their persistence paid off in spades as Liverpool old-boys Peter Crouch and Charlie Adam dragged the hosts level before the break in dramatic fashion — a trend that would continue into the second half.
It was all a bit frantic in the opening exchanges; the Reds are no stranger to early goals, but it didn't look like it was going to happen for them today until Aly Cissokho took a punt from a long ways out with his powerful drive ricocheting in off of Stoke captain Ryan Shawcross and past debutant 'keeper Jack Butland.
Before that the Potters were making all the early noise with some pumped balls into the box testing Liverpool's resolve and that would continue even after the goal as the hosts' continual string of set-pieces kept the visitors pegged back. Mark Hughes has taken great strides to changing Stoke's image, but one crucial thing that hasn't changed is their ability to press as the Reds struggled to get their passing game going.
Although the Potters looked better for the equalizer, Luis Suarez's penchant for chasing down lost causes paid off when an error from Mark Wilson allowed the Uruguayan to get on the end of a hoof and hope clearance from Martin Skrtel to finish strongly past Butland. They never looked like holding onto the lead though and as Glen Johnson stepped off Marko Arnautovic, the Austrian whipped in a peach of a cross for Peter Crouch to head home. Even at 2-0 down, Stoke were never well and truly out of it and they confirmed that when a Jordan Henderson error saw the ball fall to Charlie Adam who would thunder a left footed strike past Simon Mignolet with Martin Skrtel choosing to retreat from, instead of close down, the Scotsman.
If the first half was short on quality, but high on entertainment, the second would have both in abundance — but not from Marc Wilson as a failed clearance from the defender hit Raheem Sterling and set the youngster bombing towards Jack Butland. The Irishman caught up with Sterling as he reached the penalty area, but it would be more shambolic defending from him as his tackle tripped up the Reds winger with ref Anthony Taylor having no choice but to point to the spot.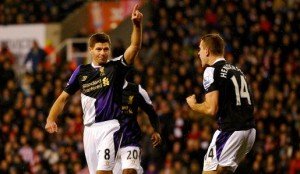 Steven Gerrard stepped up to finish coolly past Butland to score on his 650th appearance for Liverpool and visitors looked to close the match out exactly 20 minutes later when Daniel Sturridge, making his first appearance for Liverpool since the end of November, held up play on the edge of the area before playing strike partner Suarez in with an instinctive pass. It goes without saying that the Uruguayan made no mistake as he notched his 22nd league goal of the season, and from here on out, it should have been a simple matter of closing the hosts down for the win. As the final scoreline suggests, this was obviously not the case.
It looked like Jonathan Walters pulled one back for the hosts after Peter Crouch flicked the ball on for him, but Simon Mignolet did well to keep the boyhood Everton fan from scoring — this time anyways. Minutes later, another chance would fall for Walters and this time he'd make no mistake as he bamboozled Kolo Toure before finishing past a stranded Mignolet to set up a frantic finish.
Mark Hughes side threw everything, including the kitchen sink, at the visitors as they looked for an equalizer, but it was Daniel Sturridge that would have the last laugh. Suarez turned provider this time and his far post cross found Sturridge sneaking in and the striker saw his initial, first-time effort saved by Butland. That never say die attitude doesn't just describe Suarez though and the striker would keep the ball from going out with a bit of juggling before he smashed home from six yards.
Peter Crouch saw a header ping back off the post, Suarez's low shot was saved by Butland to deny the Uruguayan another hat-trick and Mignolet kept Gerrard from scoring an own-goal with a instinctive save as a frantic finish closed this one out, but the Reds were too good for Stoke on a day that they also looked bad enough to beat themselves.
Three points today sends us back into the top four after briefly dipping out, but our defensive frailties continue to make things harder then they should be. That said, we're continuing to win matches that in previous seasons we would have drawn or even lost — we can't keep riding our luck and relying on the offense to patch up for our problems at the back though and Rodgers will need to address our issues at the back sooner rather than later.
There's no better time than now.
–Steven
What'd you think of that? I think I need a heart transplant. Let us know how you fared in the comments or, if social media is your preference, hit us up on Facebook or Twitter.