It's Not All Talk: Aston Villa Preview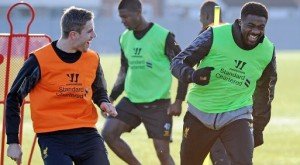 It's mid-January and we're still in the race for the Champions League; considering the amount of time we spent downplaying our chances of finishing in the top four in the early going, it's almost a surprise to be looking down the table at a number of big names at this point in the season. Naturally, this has sparked conversations about taking home the crown.
As misguided and early as that might be, we go into this weekend's meeting with Aston Villa in fourth place and only six points off the top of the league – prime real estate considering how tight things have been this season and good press considering the transfer window has been open for over two weeks and we've yet to bring a target in. While the boss has assured us that work is ongoing, there's no better way to entice a target then to open talks on the back of a win – obviously, that will be the aim when the Villains visit Anfield tomorrow.
After last weekend's eight goal thriller at the Britannia Stadium, the Reds will be looking for a more comfortable win in front of a more receptive crowd, but Aston Villa likely won't be the side to provide it. Despite a poor run of form that saw Paul Lambert's boys pick up a mere four points in their six matches in December, we'd do well to remember that Villa have been nothing but a thorn in our side when they've come knocking.
The Midlands club has lost just once in their last four visits to Anfield and bagged themselves a crucial 3-1 victory on Merseyside last season when they were hovering just above the relegation zone. A pair of Christian Benteke goals were sandwiched between an Andreas Weimann strike as the visitors inflicted Brendan Rodgers side with another bout of growing pains. The form of the big Belgian has been in question, but a goal against Arsenal on Monday looks to have gotten him all fired up again – bad news for Liverpool, yes, but we've been routinely using our offence to paper over the cracks in our defence and we'll likely see more of the same tomorrow.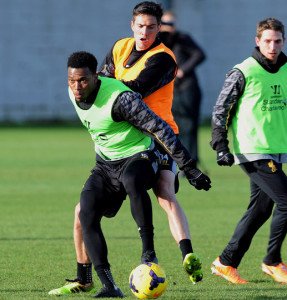 Villa 'keeper Brad Guzan knows what the Reds are all about and he's called on his backline to keep Golden Boot heir apparent Luis Suarez at bay; or, in the very least, try to contain him. Liverpool have scored the second most goals in the Premier League this season, but we've relied heavily on the Uruguayan for output with his goals accounting for just under half of our entire tally this season. While the American shot stopper has pointed out Suarez as the obvious danger man, Brendan Rodgers has confirmed that Daniel Sturridge is in contention to make his first league start since November after the striker made a cameo appearance – scoring a goal and creating one in the process – in the win over Stoke City last weekend.
While Villains boss Lambert will no doubt lose just as much sleep as his 'keeper with thoughts of an SAS rout coaxing him into adding something a little stronger than warm milk to his empty glass, the Midlands club has gotten a boost over the last few days with two loan signings coming in. The addition of veteran striker Grant Holt from Wigan isn't exactly awe inspiring, but the news that they've secured promising Chelsea fullback Ryan Bertrand, a reported Liverpool target, on loan until the end of the season has more than one set of ears perked up.
The youngster could be thrown directly into the mixer with  Lambert including his most recent acquisition in the squad tomorrow, and it'll surely be a baptism by fire  if he makes the starting eleven. Liverpool principal owner John W. Henry will make his first visit to Anfield on Saturday since appointing Brendan Rodgers as Reds boss at the beginning of last season and it goes without saying that the American will want to take in a winning performance. Rodgers will be going for the throat tomorrow as he looks to back up his title aspirations and the return of Sturridge could signal a switch in formation to something resembling a midfield diamond.
Raheem Sterling could be the one to make way if the Reds manager decides to reunite the SAS partnership from the get-go which should see Philippe Coutinho move back into his preferred central role. Liverpool captain Steven Gerrard may continue in his newfound holding role with Jordan Henderson sure to find a place alongside his skipper in the middle of the park, but Lucas could make way for Joe Allen if the Welshman is fit enough for a starting place. The fitness of both Allen and Mamadou Sakho was discussed in the manager's pre-Villa press conference and the Frenchman could also return to the side in place of Kolo Toure after the Ivorian looked a bit rusty against the Potters last weekend. Both Glen Johnson and Aly Cissokho should retain their places despite failing to inspire anything resembling confidence last weekend, but with no better options currently available, we're going to have to stay the course.
Barring their stumbles against Manchester City and Chelsea over the festive period, the Reds have looked unstoppable in the Premier League and there's little to suggest that's going to change tomorrow. With that being said, it's been a wild season so far not only at the top of the table, but all the way through to the bottom as well. The mantra of "there's no easy games" certainly applies here, and though Liverpool are favorites, that certainly doesn't negate the fact that there's work to be done.
–Steven
Be sure to stop by before the match for all the pre-kickoff news and the confirmed starting line-ups. In the meantime, get social with our media and give us a like on Facebook and a follow on Twitter.