Liverpool Fullback Glen Johnson Ruled Out "Indefinitely"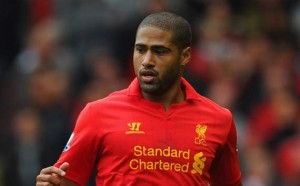 While we wait for confirmation that Liverpool have missed out on Number One transfer target Mohamed Salah, today is going from bad to worse with Reds boss Brendan Rodgers confirming that fullback Glen Johnson will be out of action for an indefinite period of time.
Although the England man has gone off the boil in recent weeks, this latest news comes as a major blow to Liverpool's Champions League charge with Brazilian defensive midfielder Lucas also sidelined for the foreseeable future. With an FA Cup tie with Championship side AFC Bournemouth at the weekend and a meeting with cross-town rivals Everton looming a mere three days later, this could be the moment where it's acceptable to start panicing.
"Glen has played a lot of the season having been injured and really put himself out for the team, but unfortunately he's struggled a lot with a number of injuries" said Reds boss Brendan Rodgers in his pre-Bournemouth press conference. "The timeline he'll be out will be indefinitely, really. We'll just need to assess that and see how quickly he comes through that."
Although the boss didn't name what specific ailment would be keeping the fullback on the treatment table, the term "number of injuries" is never something that inspires confidence – especially when a squad that is already stretched to the limits becomes that much thinner. With just over a week left in the January transfer window, the Reds search for a fullback could be amped up. If not, there's always Kolo Toure…