Chelsea Rumoured to Bid for Liverpool Target Mohamed Salah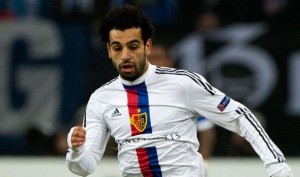 It's all Mohamed Salah all the time around Paisley Gates headquarters and the latest coming in from the rumour mongerers is that Premier League rivals Chelsea are looking to snatch the promising winger at the last minute with a reported bid of £10mil.
With Manchester United hot on the heels of Blues outcast Juan Mata, Jose Mourinho is believed to have targeted the 21-year old as some back-up fire power should the Spaniard move on this winter. The Egyptian, who scored in both legs as Chelsea suffered shock back to back losses to FC Basel in the Group Stages of the Champions League, is now a well known figure around Stamford Bridge with his blistering pace catching the Europa League champions with their collective pants down.
While this smacks of media sensationalism, it wouldn't be the first time that Mourinho has snuck in and bought a target when their destination looked all but decided. During the summer, as Liverpool and Tottenham fought over the services of then Anzhi Makhachkala winger Willian, the posh London club stepped in and smacked both suitors down with a bid – and wages – neither were either interested in or able to match. Although Salah looks destined to move to Merseyside, FC Basel, and the player, could be tempted by a move to the Capital.
It's believed that the Swiss side is at odds with Liverpool over the asking price for the man dubbed "The Egyptian Messi" with Brendan Rodgers launching an initial bid of £8mil. Media reports have that figure rising to £10mil, the same as amount rumoured to be Chelsea's opening bid, if an acceptable payment structure can be agreed upon, but this latest development could throw a spanner in the works.
Sounds like Salah now has a decision to make – challenge for a Champions League place with Liverpool, or join Chelsea and go out on loan next summer.