Rodgers Not Looking for Squad Players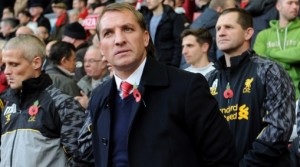 Although the chase for Mohamed Salah seems done and dusted, Reds boss Brendan Rodgers is yet to concede defeat in the chase for the influential winger, all the while insisting that Liverpool have a number of targets – who aren't just squad players — in their sights.
The Anfield outfit has been linked with a host of promising talent since the transfer window opened on the first day of January, but any real movement has been scarce with the move for the Egyptian the only real news to report on. With Salah yet to agree to personal terms with suitors in waiting Chelsea, Rodgers says he's not sure if the "Egyptian Messi" has already completed his move to Stamford Bridge.
"I'm not sure whether that deal is definitely done yet or not," the Reds boss told talkSPORT. "It is one where the agent of the player and the clubs were talking but if the deal can't be done, the deal can't be done." After weeks of negotiation between Liverpool and Swiss side FC Basel, the London club swooped in and made a rival bid for the 21-year olds services with a more attractive payment schedule rumoured to be the tipping point between the two competing parties.
Even though they've missed out on their number one transfer target, Rodgers insists that Liverpool will continue to look for the right players to bring in this January and intimated that he'd rather give one of their promising youngsters a shot rather than bring in a player that's not yet first team material. "It is hard to bring in players that can improve the team, especially in this window" conceded the Northern Irishman. "I'd rather wait and look at our young players than bring in one or two squad players."
Who the Reds boss might consider to be a "squad player" is, of course, open to debate, but with his players dropping like flies, bringing in a healthy body or two might not be a bad idea…