Liverpool (2) AFC Bournemouth (0): Reds Do Just Enough to Progress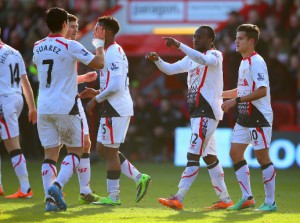 A 2-0 result in a knockout competition is a good result any way you slice it, but Reds boss Brendan Rodgers will feel a bit lucky to slip through to the next round of the FA Cup after seeing his Liverpool side pressed for 90-minutes by a dogged Bournemouth outfit.
Victor Moses opened the scoring against the run of play just before the half-hour mark when his speculative shot from 20-yards eluded Cherries 'keeper Lee Camp to nestle into the bottom corner; truth be told, that was one of only four shots that Liverpool managed to place on target through the 90-minutes. A second half goal from Daniel Sturridge would round this off for the visitors, but it's safe to say that had Eddie Howe's men been a bit more clinical in front of goal, the scoreline wouldn't flatter to deceive.
On the back of an injury crisis at Anfield, the visitors named a strong line-up with both Luis Suarez and strike partner Sturridge included in the starting eleven along with Steven Gerrard and Philippe Coutinho.
With Joe Allen, Lucas and Glen Johnson all sucumbing to injury since the 2-2 draw at Aston Villa a week ago, Rodgers admitted that he'd been working with a mere 15 players for much of the week — though you'd wonder which players those were as the opening exchanges saw a lethargic Reds side being outmatched and outplayed against their Championship counterparts.
Bournemouth boss Eddie Howe named an attacking line-up despite the serious gulf in class between the two sides and this adventurous gamble paid dividends in the early going as Liverpool struggled to adapt to both the inadequate playing surface and, seemingly, the speed of the game. Fullback Charlie Daniels sent in a cross that was met by on-loan Norwich man Andrew Surman, but the South African couldn't direct his header on target.
Further chances fell to Simon Francis, who made stand-in 'keeper Brad Jones work from a set-piece, and Marc Pugh, who couldn't find the net with his header after a deep free-kick, as Bournemouth pushed the issue. Although they were enjoying the run of the game, the opening goal came through an unlikely source — and, for them anyways, the wrong team.
With the Reds finally gaining a foothold, Suarez's ball in from the right found Victor Moses lurking near the edge of the box, and with few other options available to him, the Nigerian lashed in a low drive that someone found its way through a rash of defenders and past a diving Lee Camp. The winger looked almost embarrassed to score in such a fashion with a subdued celebration following the goal, but with Jordan Henderson firing over from eight yards and Bournemouth captain Tommy Elphick's header flying high from a corner, it would be enough to send Liverpool into the half-time break with a less than deserved lead.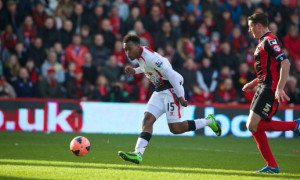 Martin Skrtel and Cherries striker Lewis Grabban clashed heads as the second half got off to a bang with the Slovakian getting a black gauze headband and some blood in his eyes for the trouble. Bournemouth still liked the more likely side to score and continued to press their visitors with a decent penalty shout waved away from Lee Probert after Martin Kelly pulled on Simon Francis's jersey, sending the defender tumbling to the pitch.
There'd be little time to debate the hotly contested shirt pulling question when, shortly after, Suarez found Sturridge with a perfectly timed run and the Liverpool striker finished low past Camp with a half hour left to play. Although the hosts continued to see much of the ball, it was the visitors who came closest to extending their lead when Suarez, one-on-one with Camp, lobbed over the bar. Sturridge had the chance to double up, but could only fire straight at the Cherries 'keeper, and as time ticked down, Bournemouth were cruelly denied a consolation goal when Jones tipped over Lewis Grabban's shot from the edge of the area.
Once again, the Reds failed to impress, but still snuck away with a victory; at this stage that's good enough for me. Progression is the only thing that matters in a knockout competition, and though we could have rested some players had we not been blighted by injury, I'm going to forget about the match with Everton on Tuesday.
For the rest of the day, the fact that Suarez, Sturridge and Gerrard — players who will surely start in the Derby — all played 90-minutes while Moses and Kelly — two players that probably won't — were given a rest before the final whistle. It's a bit baffling, but I'm trying out this "ignorance is bliss" thing for a bit. That, and drinking at wildly inappropriate times…
One must be prepared for the potential heartache that lies ahead.
–Steven
Through to the next round and what do you have to say about it? Rather we didn't turn up at all? Or glad that we live to fight another day in the Cup? A strange combination of both you say? Well, be sure to clarify in the comments…just keep it clean, will you?