Did Tottenham Actually Enter the Race for Liverpool Linked Konoplyanka?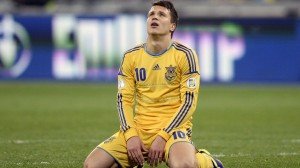 While writing about Liverpool's reported interested in FC Dnipro Dnipropetrovsk winger Yevhen Konoplyanka earlier in the day, the News Desk was waiting for the other shoe to drop; well, right on time, here it is.
With Reds Managing Director Ian Ayre apparently in, or enroute, to the Ukraine to hash out a deal for the 24-year old, fellow Premier League rivals Tottenham Hotspur have put their hand up to say "me too!" as they prepare to go head to head with Liverpool for the talented attackers signature. This song and dance is far too familiar on Merseyside with the London outfit previously hijacking bids for the likes of Icelandic midfielder Gylfi Sigurdsson and American utility man Clint Dempsey, as well as disrupting negotiations with Brazilian afro-puff Willian. Of course, at this late stage, you have to wonder if there's actually any interest at all coming out of White Hart Lane.
You never say never at this stage in the game, but after busting their wad on nearly £100mil worth of players during the summer — and having very little to show for it — the real question is if Spurs Chairman, and chief negotiator, Daniel Levy is going to be given even a pittance to play with this month. Tottenham, who sacked manager Andre Villas Boas after Liverpool shellacked them at Whitehart Lane, have yet to dip into the transfer market this month at all leaving new boss Tim Sherwood to play will all of Portuguese bosses broken toys.
Although Sherwood has made a much better go of it — you know, besides the 5-1 pasting they got handed by Manchester City earlier tonight — you have to wonder if the former Spurs man has bought himself enough goodwill to snag a £16mil attacker. Never, ever, say never, but cross your fingers that Ayre doesn't pull a Mohamed Salah on this one.
Konoplyanka might not be the defensive midfielder or fullback that we need, but he's not going to hurt our line-up one bit, now is he?