Konoplyanka to Liverpool Gains Traction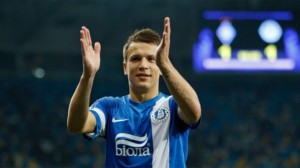 After yesterday's 4-0 thrashing of cross-town rivals Everton in the 222nd Merseyside Derby, Liverpool boss Brendan Rodgers said he was hopeful of making a "major signing" before the transfer window closes on Friday. It now appears his wish is in the works.
Although there are rumours that Blackpool winger Thomas Ince is holding out for a move back to Merseyside, it's looking like the Anfield outfit are in for £16mil rated Ukrainian winger Yevhen Konoplyanka after missing out on number one transfer target Mohamed Salah. Earlier reports had Liverpool Head of Recruitment Dave Fallows handling negotiations with FC Dnipro Dnipropetrovsk from the Ukraine, but it's now believed that Managing Director Ian Ayre will be heading up the deal back at Melwood.
After suggestions of a move for the promising 24-year old were initially laughed off, the rumour has gained steam following yesterday's win with the player's father hinting that a move to England was in his son's immediate future. "I do not want to say specifically but the information about a transfer to the English club is true" said Konoplyanka's father Oleg to local media outlet Tribuna. "He can change club later this week. We do not consider offers from Ukraine."
Konoplyanka, who scored a fantastic curler against England at Wembley Stadium during their 1-1 draw in a World Cup Qualifier back in September , was reportedly penciled in as a summer target for the Reds, but following the failure to capture Salah, they've now deiced to test the waters with Dnipro for a move this month. With only 2 days left in the transfer window, it's going to take some doing if Liverpool is going to convince the Ukrainian side to part with one of their stars.
More on this as it inevitably progresses…