West Bromwich Albion Buildup: Mel Left Perplexed, Anelka Staying Put and When Opportunity Knocks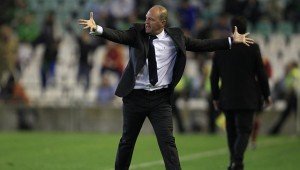 Only one set of fans enjoys a derby win; I'm sure there are still some Liverpool fans going out of their mind after the Reds stuffed cross-town rivals Everton 4-0 on Tuesday evening, but the mood is decidedly more somber – and likely sour – around the Hawthorns following the West Midlands Derby.
Although it's certain to go down as a classic, it's just as certain to be a classic that the Baggies faithful would rather forget. New West Bromwich Albion boss Pepe Mel watched his side race to a two goal lead within twelve minutes of kick-off at the Hawthorns only for rivals Aston Villa to draw level before the half hour mark. It ended a seven goal thriller, with a last minute Christian Benteke penalty deciding the affair, and as much of the Spaniard is proud of his side, he's left perplexed how they could score so many but end up with so little.
"It was an incredible match. To score three goals away and [get] no points is remarkable. We need to work on our defensive mistakes," said Mel following his teams startling capitulation at the hands of Paul Lamberts re-invigorated Villa side. "I'm very proud of the players, they tried very hard." With the Baggies left a mere three points ahead of 19th placed West Ham United following the Hammers draw against Chelsea last night, the Spaniard is going to have to find a way to translate that hard work into points in quick fashion.
Following the 4-0 pasting of the Blues on earlier in the week, Liverpool have cemented themselves in fourth place in the Premier League with another attacking master class; the Reds remain a force to be reckoned with, and after shipping four goals to Villa, they're not the kind of team that will give the Baggies a quick opportunity to bounce back from their recent disappointment. "It was a good spectacle for the people who paid their money to watch, but not for me" conceded the West Brom boss. "We are in a fight against relegation but the table is close. We must forget about this game and concentrate on Liverpool this weekend."
The Baggies are sure to be without striker Nicolas Anelka after the embattled French striker limped off before the half hour mark during the loss to Villa. The journeyman attacker faces the wrath of the FA after using the controversial "quenelle" gesture to celebrate a goal against West Ham United in December. Although his hearing isn't until late February, the striker is expected to be sidelined for the foreseeable future after a poor challenge from Matt Lowton left him requiring stitches in his knee.
"We must work hard to solve any issues that the bang to the knee might cause" said Mel when asked how Anelka's absence might influence his line-up for Liverpool. Prior to the meeting with Aston Villa, the Spaniard assured Baggies fans that the 34-year old wouldn't be moving in this January's transfer window with Italian club Lazio linked with a move for the veteran striker. With fellow attacker Shane Long making the switch to Hull City earlier in the month, Mel has now been left with a shortage of attacking options up front – something he'll want to address should the opportunity arise.
"One result doesn't change my opinion of squad but if we have an opportunity to sign a player then we should do so" hinted the Spaniard. "Anelka has a lot of sticthes in his knee. At the moment he has no chance of playing on Sunday." With the transfer window set to wrap up tomorrow evening, the Midlands club doesn't have a whole lot of time to bring someone in and integrate them into the squad before the Reds roll into town. At this point, it sounds a bit like too little, too late, but we'll have to see if the Spaniard – and the Baggies board – have any tricks up their sleeves.
–Steven