Deadline Day Roundup: Konoplyanka "Complicated", No M'Villa for Liverpool and Aspas Staying Put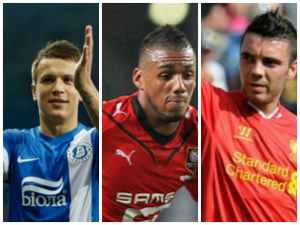 There's still lots of time left in the transfer window for Liverpool to make some moves, but the only one that appears to be on the cards is Yevhen Konoplyanka's move to Merseyside from FC Dnipro Dnipropetrovsk.
As two sides remain locked in talks, an agent close to the deal – probably the same joker that tried to scam Tottenham with fake papers for Luc Castaignos — has admitted that proceedings aren't going quite as smoothly as planned. "Some of the complications are unbelievable" the unnamed, and likely fake, agent told the Daily Mirror. While Liverpool appear to be winning the race against time to complete the 24-year olds move before the window closes at 11pm GMT tonight, this one could very well come down to the wire.
In other news, another person who knows absolutely nothing about anything is getting quoted on the Reds reported interest in Rubin Kazan destroyer Yann M'Villa, and according to talkSPORT's Graham Beecroft, there's no move imminent for the 23-year old. "It was never going to happen. They are not pursuing him. M'Vila is not going to join Liverpool," the pundit told the Colin Murray Show earlier today. Whether he knows that for sure, or is just playing a very good hunch, remains to be seen, but after Lucas hinted at Liverpool's interest in AC Milan holding midfielder Nigel de Jong yesterday, the big Frenchman really started to look like a bridge too far.
Speaking of far, that's the exact distance that Reds stiker Iago Aspas will be from first team football if the Konoplyanka deal is wrapped up in time. According to local newspaper Super Deporte, the Anfield outfit has apparently turned down an offer from Spanish side Valencia to take the much malaligned striker on loan for the remainder of the season. Since we took liability Aly Cissokho off their hands, and have no choice but to play him, it looks like they're just trying to return the favour with the offer for Aspas. Even though the initial approach has been turned down, there's still a lot of time for Rodgers and company to re-consider; Konoplyanka, who would walk into the first team, will surely push the Spaniard off the bench and into the stands.
If he's not going to play, we might as well do the humane thing and let him not play while in Spain.