Deadline Day Roundup: Konoplyanka Passes Medical, No Interest in Chadli or Richards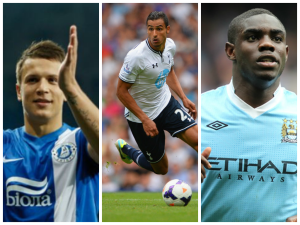 There's nothing but sketchy reports out of the Ukraine to go on, but apparently Liverpool target Yevhen Konoplyanka has completed a medical with the Anfield outfit ahead of a £16mil move to Merseyside – a move that continues to be held up for various vague reasons.
Despite one hurdle being cleared, a number of others stand in between the Reds and their man. Although Ian Ayre and company are pushing hard for an agreement, Dinpro's multi-billionaire owner Ihor Kolomoyskyi is believed to be the major stumbling block with the mega-rich oligarch not only not interested in selling, but demanding the entire lump sum up front in the event he does agree to part with the promising winger.
Konoplyanka is known to be keen on a switch to the Premier League – and Liverpool in general — but with 18-months left on his contract with the Ukrainian side, he doesn't have a whole lot of leverage in deal. While bargaining continues in the East, it's been all but confirmed that the 24-year old is the Reds only target on transfer deadline day with earlier reports had the Anfield outfit targeting Tottenham winger Nacer Chadli should the move for Konoplyanka collapse proving false.
Rumours of a loan enquiry for Manchester City fullback Micah Richards have also been shot down with Rodgers apparently dismissing the link to the England man outright even though the Merseysiders are in desperate need of a fullback and not a winger. Maybe Konoplyanka is really good at tracking back?