Liverpool Miss Out on Konoplyanka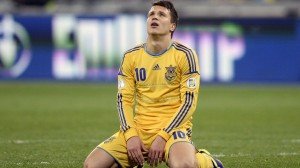 If not for a lack of trying, Liverpool's last ditch efforts to bring in talented Ukrainian winger Yevhen Konoplyanka on transfer deadline day collapsed at a late hour with the two sides unable to meet an agreement.
Reds Managing Director Ian Ayre has been locked in talks with the FC Dnipro Dnipropetrovsk hierarchy trying to hash out a move for the talented 24-year old, but despite the player pushing for a move and completing a medical, the two sides were unable to come to an agreement with the Merseysiders offer of between £12mil and £15mil not enough to budge multi-billionaire owner Ihor Kolomoyskyi from his "No Sale" stance.
After the Anfield outfit missed out on FC Basel winger Mohamed Salah earlier in the window, capturing the Ukrainian became almost as much as matter of pride as a needed reinforcement, but once again, Liverpool came up with the short end of the stick after negotiations reached a standstill. Reds boss Brendan Rodgers, who expressed an interest in making a major signing following his sides 4-0 trouncing of cross-town rivals Everton on Tuesday, will now be left to work through the last 15 matches of the season without any fresh blood — something that might not be such a bad thing.
The Reds go into the weekend cemented in fourth place having scored the second most goals in the English top-flight to date. Although a number of additions, namely a defensive midfielder and a fullback, would have been welcome — if not necessary — additions to the squad, Rodgers has reiterated his desire for a first team player rather than someone to flesh out the squad.
"I think it's difficult in order to bring certain players in that are going to help us immediately," said the Reds boss. "The availability of the player, and of course the affordability, are always the two factors involved in getting a player in."
Whether our lack of activity in the transfer market will come back to bite us remains to be seen, but one thing is for sure, and that is that Rodgers will be looking for major backing in the summer — something he certainly deserves.