Luis Suarez Leads European Golden Boot Race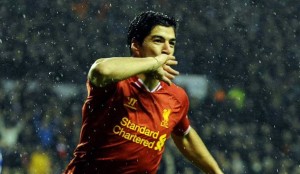 Following this weekends round of matches across Europe, Liverpool striker Luis Suarez has edged ahead of Real Madrid counterpart — and Ballon D'or winner — Cristiano Ronaldo in this years hotly contested race for the European Golden Boot.
The Uruguayan currently sits a mind boggling eight goals ahead of Manchester City striker Sergio Aguero in the Premier League race with 23-goals to date, but the competition in Europe is decidedly hotter with the Portuguese goal-machine just a strike away from drawing level with Suarez, who pushed ahead after netting the fourth goal in Liverpool's rout of cross-town rivals Everton last Tuesday. What's even more amazing is that Suarez has racked up his spectacular tally in a mere 19-league matches after missing out through suspension for the first five of the season – though Ronaldo may even those numbers up in short order.
To make things just a touch more interesting, Ronaldo will be out of commission for up to three matches after being handed a straight red card in Sunday's 1-1 draw with Athletic Bilbao after the former Manchester United man reacted to a shove from Bilbao midfielder Carlos Gurpegui. Whether Suarez will be able to capitalize and really open a gap with the Portuguese striker out of commission remains to be seen, but he'll have to keep an eye on more than just CR9 if he's going to run away with one of Europe's most coveted prizes.
Diego Costa played catch-up by netting his 20th goal of the season for Atletico Madrid in their romp of Real Sociedad on Sunday evening while fellow club-mate Daniel Sturridge made his own claim for a spot in the race when his double against Everton, and Suarez assisted strike against West Brom on Sunday, brought his tally to an impressive 14 for the campaign. The Englishman has got a little ways to go if he wants to catch the run-away Suarez, but if the Uruguayan keeps playing creator, it might not take him too long at all.