Rodgers and Mel Say Pitch Wasn't Up to Snuff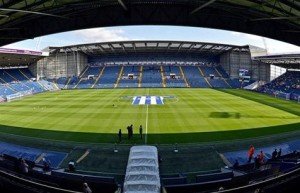 One of the main talking points to come out of Liverpool's 1-1 draw with West Bromwich Albion on Sunday was the state of the pitch at the Hawthorns Stadium which looked to be a patch of grass not worthy for top-flight football.
Daniel Sturridge's first half strike gave the Reds a slim lead going into the half-time break, but a reverse in fortunes – and a horror pass from Ivorian defender Kolo Toure – gifted Pepe Mel's side a share of the points with the visitors unable to find the go-ahead goal. Although Brendan Rodgers side wasn't good enough over the 90-minutes to snatch three points, the Northern Irishman has become the second Premier League manager to criticism the West Midlands pitch.
It was evident to even the newest students of the game that the Merseysiders failed to get the kind of slick passing game going that destroyed Everton last Tuesday. While part of that can be put down to the Baggies dogged work rate, a fair portion of it can also be put down to conditions. "I'm not sure if they are cutting the budget!" half-joked the Reds boss in the wake of the 1-1 draw. "For you and I it's a great pitch but for top players it's not."
West Brom boss Pepe Mel, though pleased with his side's point following their disappointing loss at the hands of rivals Aston Villa, agreed that something needs to be done about the playing surface. "It is a problem for us because it is our home" conceded the Spaniard. "Liverpool only play on it one time. But I think the club will find a solution." The Baggies ground staff have nine days until their next home match with Chelsea to work on the pitch, but now that Liverpool don't have to visit the Hawthorns until next season, they can leave it exactly the way it is if it means that Jose Mourinho's side are going to have the same problems.
Fair is fair, right?